Wouldn't it be a treat to enjoy Orlando's best restaurants at one place, for one gourmet evening? Throw in a Chef's Challenge competition with four of Orlando's top chefs and the whole night benefits Edible Schoolyard? The Orlando Weekly is making it all happen next Monday, June 30th from 7:00pm-11:00pm at the Orchid Garden at Church Street (122 W Church St, Orlando, FL 32801).
The Bite Night event is the grand finale of Bite 30 month, which expands Orlando Weekly's restaurant week to 30 days of delicious prix fixe lunch and dinner menus. You can read about my own experiences enjoying Bite 30 at Taste Cook Sip on HypeOrlando.com.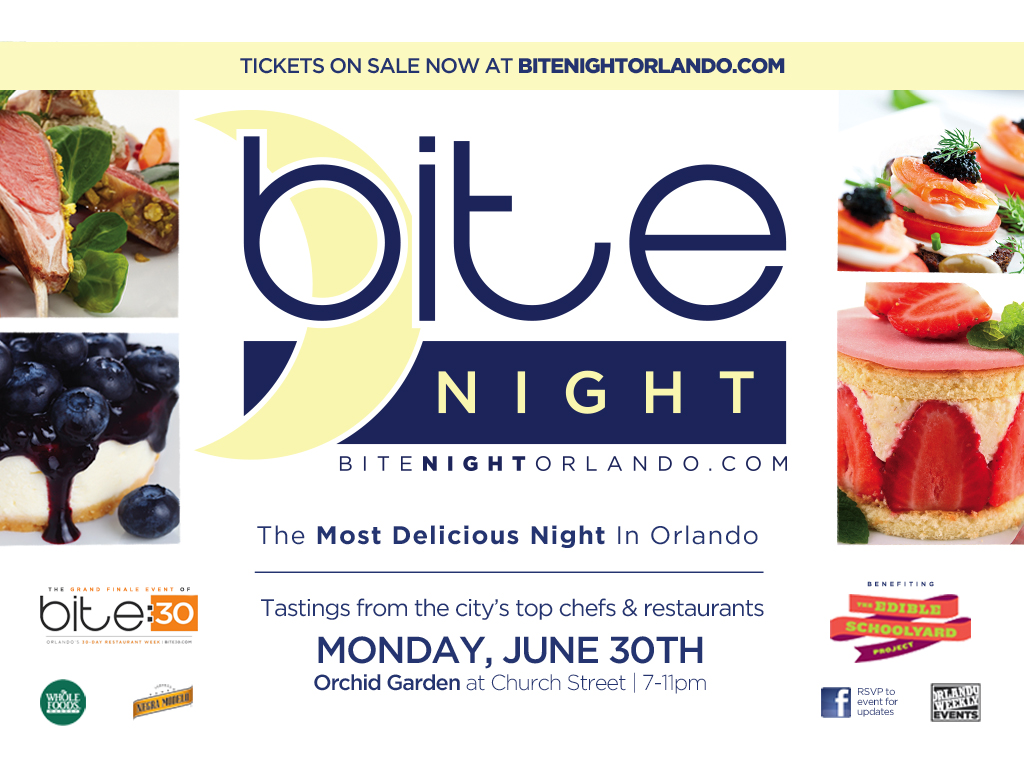 Advanced tickets are going fast for $40 and if the event doesn't sell out in advance, limited tickets will be available for $50 at the door. For the first time in one venue, enjoy creative dishes from: Cask & Larder, The Rusty Spoon, Txokos Basque Kitchen, K Restaurant, Sushi Pop, The Strand, The Smiling Bison, Santiago's Bodega, Tako Cheena, Park Plaza Gardens, Iza Tapas, Range, A Shared Kitchen, Hamilton's Kitchen, Whole Foods Market and Sweet! By Miss Holly.
Taste Cook Sip is very excited to give you a chance at a free pair of tickets to Bite Night, as detailed in the giveaway widget below:
For all the latest Bite Night event details and updates, check out the Bite Night Facebook event page. Advanced tickets can be purchased online here, until the event is sold out. Be sure to follow @BiteOrlando on Twitter for ongoing promotions and all #Bite30 and #BiteNight updates. Bite 30 menus are available through June 30, 2014, a complete list of the participating Bite 30 restaurants and their menus is located online here. Follow @TasteCookSip on Instagram to see pictures of the #Bite30 meals we've enjoyed!