February 27, 2015 | Posted in:Recipes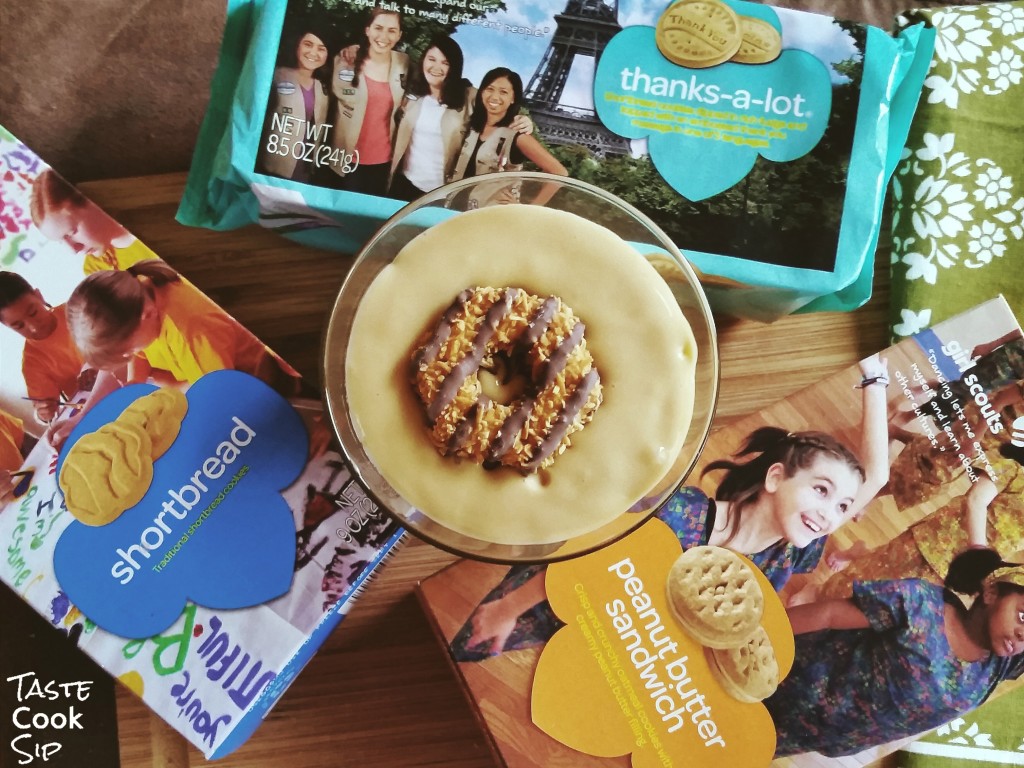 It's Girl Scout cookie time!
If your family is like ours, Girl Scout cookie time conjures up memories of order forms, cases of cookies and troop gatherings to sell cookies. My own mom was a troop leader and I have great memories of troop meetings and the camaraderie of achieving goals, resulting in the pride of sewing on my next patch to my sash. Think it's just about delicious cookies? Learn about what the Girl Scouts cookie program is teaches, visit here and for more information on the Girl Scouts, please visit their website.
Those wonderful memories came flooding back when I was asked to come up with a recipe using these coveted cookies. Let me be honest, Thin Mints don't last long in our house. We pop the box in the freezer and maybe it's there for a few days. Or…maybe not! I wanted to come up with a recipe to highlight my second favorite cookie, the indulgent Caramel deLites (I grew up with them as Samoas). This magical Girl Scout cookie starts with a crisp vanilla cookie, which is covered with caramel, then rolled in toasted coconut and drizzled in chocolate. I thought a homemade Dulce de Leche pudding would make a great base to showcase the cookies.
If coconut isn't your thing, you can also make this delicious and easy parfait recipe substituting the Thanks-a-lot, Shortbread or Peanut Butter Sandwich cookies. We stringently taste-tested them all, you are welcome.
Dulce de Leche Pudding
Ingredients
1 3/4 cups whole milk
1/2 cup heavy cream
4 tablespoons cornstarch
3 egg yolks
1/8 teaspoon salt
1 Cup Dulce de Leche (Purchase in store or make yourself one of several ways!)
Easy Dulce De Leche
1 can sweetened condensed milk (regular or fat free)
Place a can of sweetened condensed milk in a medium saucepan. Fill with warm water until the waterlevel is 1/2 way up the can. Simmer on medium low heat for 3 hours, flipping the can to the other end, every 30 minutes. (This will keep the Dulce de Leche from over browning and becoming too thick on one end) Maintain the water level about 1/2 way up the can, by adding water as needed through the cooking process.
Pudding Directions:
Place a fine mesh sieve over a bowl and set aside.
In a medium saucepan whisk together the milk, heavy cream, cornstarch, egg yolks and salt.
Cook the mixture over medium-high heat, whisking constantly. Do not stop stirring, or you could scorch the mixture.) After 5-6 minutes, mixture will become quite thick.
Strain the hot pudding through a fine-mesh sieve into a bowl, pressing pudding through sieve with a wooden spoon or silicone spatula.
Add the Dulce de Leche, if cooled, let sit for 1-2 minutes until softened. Stir or whisk until fully incorporated and pudding is smooth. Cool pudding for 5 minutes and pour into 4-6 individual ramekins. If making parfait recipe below, leave in bowl. Cover the pudding surface with plastic wrap, pressing wrap down so a skin doesn't form. Chill in refrigerator, about 2 hours or overnight.
Caramel deLites & Dulce de Leche Pudding Parfaits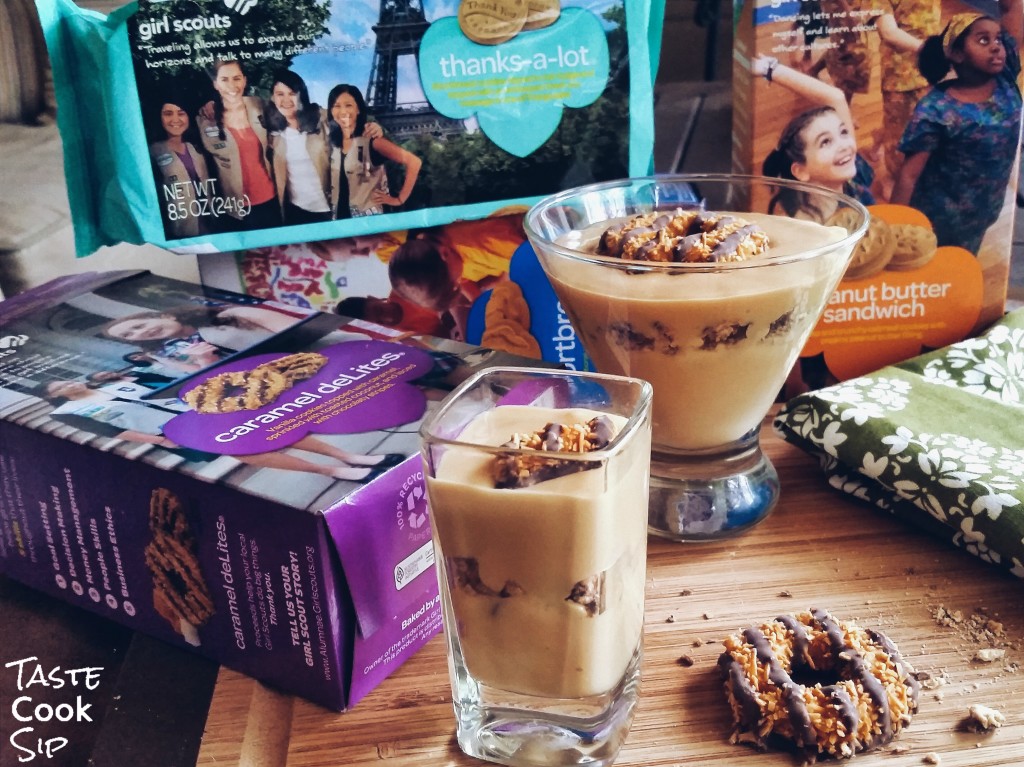 Ingredients
Dulche de Leche pudding recipe
6 Caramel deLites, chopped
3-6 Caramel deLites, for garnish
Directions
Roughly chop 6 Caramel deLights (or Thanks-a-lot, Shortbread or Peanut Butter Sandwich cookies)
Spoon Dulce De Leche pudding into a dessert glass, about halfway up. Sprinkle in a layer of chopped cookies, top with pudding to desired level. Garnish with cookie crumbles, or 1/2 a cookie. Note: We prepared as a regular portion and as a mini dessert shooter, both sizes were equally delicious and satisfying!
To find out where Girl Scout cookies are on sale in your area, nationwide, check here. To find out where Girl Scout Cookies are on sale in Central Florida, visit the Girl Scouts of Citrus website and please be sure to read up on the new Digital Cookie Program!
Thank you to the Girl Scouts of Citrus for the delicious cookies, you can bet we'll be out this weekend to pick up more! No other form of compensation was received, the Dulce de Leche recipe and opinions in this post are my own. Cheers!
I enjoy writing about and participating in the food, wine and culinary scene in Central FL in my off hours. I started Orlando Uncorked, a local non profit wine education group, to promote the approachability of wine and donated our event proceeds to local area charities. The popular wine tasting events grew into structured wine classes and finally, food and wine writing for Orlando Home & Leisure Magazine and The Seminole Chronicle. Thanks for stopping by and if you'd like to join in on my fun, follow me on Twitter, Instagram, Untappd, Drync & Vivino @WineChix . Cheers!