May 26, 2015 | Posted in:Cooking
May is National Egg Month and we are winding up our breakfast fun with a quick and zesty Guacamole, Feta and Egg Breakfast Sandwich. It can be assembled in minutes, can be made with eggs cooked to your preference and you can enjoy open-face or not. This was our first time cooking with and tasting NestFresh Cage Free Eggs, which we could find at our local Whole Foods Market. We love eggs for breakfast, lunch or dinner, so when I was invited to try NestFresh Eggs, I was intrigued. My family mistook the intense golden yolk for our local farm fresh eggs, a high compliment.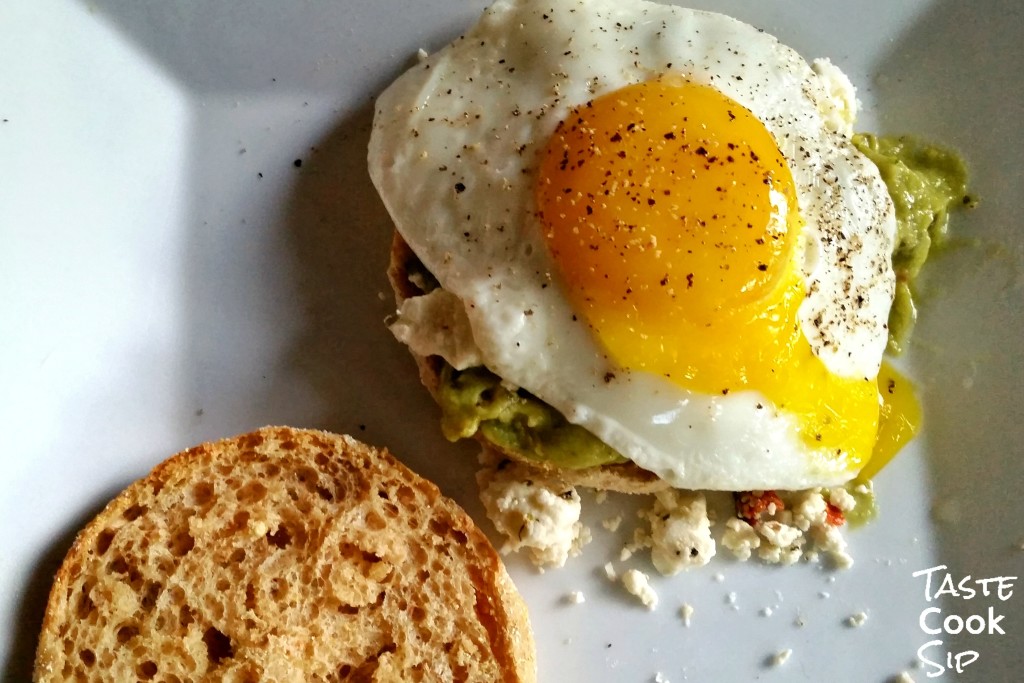 The Jumbo eggs had a wonderfully buttery yolk- perfect if you like a sunny side up, soft poached or over medium egg. As you can see by my picture, I didn't need to butter my multi grain English muffin, I squished the top down and let the magic happen. If a runny yolk isn't your thing, this breakfast sandwich is equally delicious with a scrambled egg.
Guacamole, Feta and Egg Breakfast Sandwich
Ingredients
1/4 cup chunky guacamole, store bought or home made.
2 tablespoons feta crumbles with Mediterranean herbs.
1 NestFresh Cage Free Jumbo Egg, cooked to your preference.
1 toasted English Muffin, multi grain is nice with the guacamole and egg.
Directions
Split and toast English muffin. Heat a skillet over medium heat, add a pat of butter. When melted, crack one NestFresh Egg into skillet and cook for 3-4 minutes until preferred doneness. Remove from heat, salt and Pepper to taste.
Spread guacamole over one side of English Muffin, sprinkle feta and top with cooked Nest Fresh Egg. Enjoy open-face or top egg with remaining English muffin half. Enjoy!
I have one dozen NestFresh Cage Free Eggs to giveaway, so you have the star ingredient to make this healthy & delicious meal yourself. Comment below with your favorite egg dish or pop over to Taste Cook Sip's picture of NestFresh Cage Free Eggs on Instagram and comment there, one winner will be picked at random. Comment below or on instagram (or both!) by midnight on Wednesday, May 27th, 2015. Check back Thursday, May 28th, 2015 as the winner will be posted here and you could be cooking up your own NestFresh Eggs this weekend for breakfast. Congrats to Carolyn C who commented on Instagram, her Dad's Smoked Salmon Egg Scramble with Mozzarella, Scallions and Cracked Black Pepper sounds delicious. We've added that dish to our list to try, what will you be making for breakfast?
Disclaimer: Thank you to NestFresh Eggs for providing this giveaway item free of charge. NestFresh Eggs also provided Lisa Wilk/ Taste Cook Sip with product to use, however, all opinions are my own. (We really do love a nice, runny yolk!)  This giveaway is open to U.S. residents, age 18 & up only. All entries for the winner will be checked and verified. By entering you give the right to use your name and likeness. The number of entries received determines the odds of winning. No purchase necessary. Void where prohibited by law.
I enjoy writing about and participating in the food, wine and culinary scene in Central FL in my off hours. I started Orlando Uncorked, a local non profit wine education group, to promote the approachability of wine and donated our event proceeds to local area charities. The popular wine tasting events grew into structured wine classes and finally, food and wine writing for Orlando Home & Leisure Magazine and The Seminole Chronicle. Thanks for stopping by and if you'd like to join in on my fun, follow me on Twitter, Instagram, Untappd, Drync & Vivino @WineChix . Cheers!
1 Comment