February 8, 2018 | Posted in:Cooking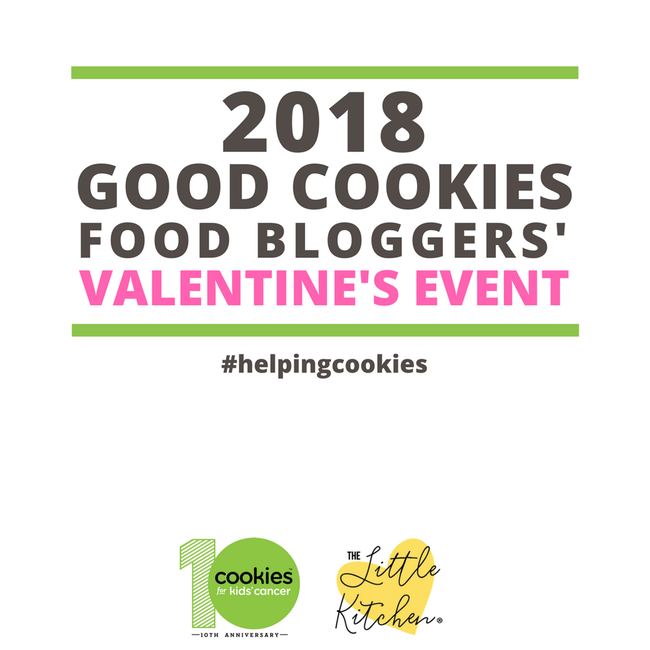 This is the second year for our Good Cookie Valentine's event! We want to make a difference in the fight against pediatric cancer!
Did you know that cancer is the #1 cause of death of children by disease in the U.S.? There are 40,000 U.S. children actively battling cancer right now. With less than 4% of the National Cancer Institute's budget going to all childhood cancer combined, I knew it was important for me to get involved.
Help us make a difference by donating to Cookies for Kids' Cancer! Our goal is to raise at least $3000 in donations, because these three companies: Dixie Crystals, Mediavine and OXO have each pledged to match our donations raised through this campaign, up to $3000! That means for every dollar donated, we are raising an extra $3 in matching funds.
Thanks to many of you, we have reached our goal. You can still donate and help us make an even bigger difference! Please consider donating now through March 1st and join our Good Cookie 2018 efforts. You can follow along on social media, by searching the hashtag #HelpingCookie.
I wanted to share a recipe that warms your heart for this wonderful campaign. I'm in love with my OXO Cookie Press and with the seasonal dies, I have been using it year round. Obviously you can use food coloring and sprinkles to boost the fun factor. I've taken a more elevated approach, so you can see the specks of vanilla bean throughout the buttery cookie.
I've used this base cookie recipe for years and by varying the fillings, you can enjoy a completely different cookie- with little fuss! For these Mexican Hot Chocolate Valentine's Day cookies I used the rose and the double hearts, in the set I have there is also "LOVE".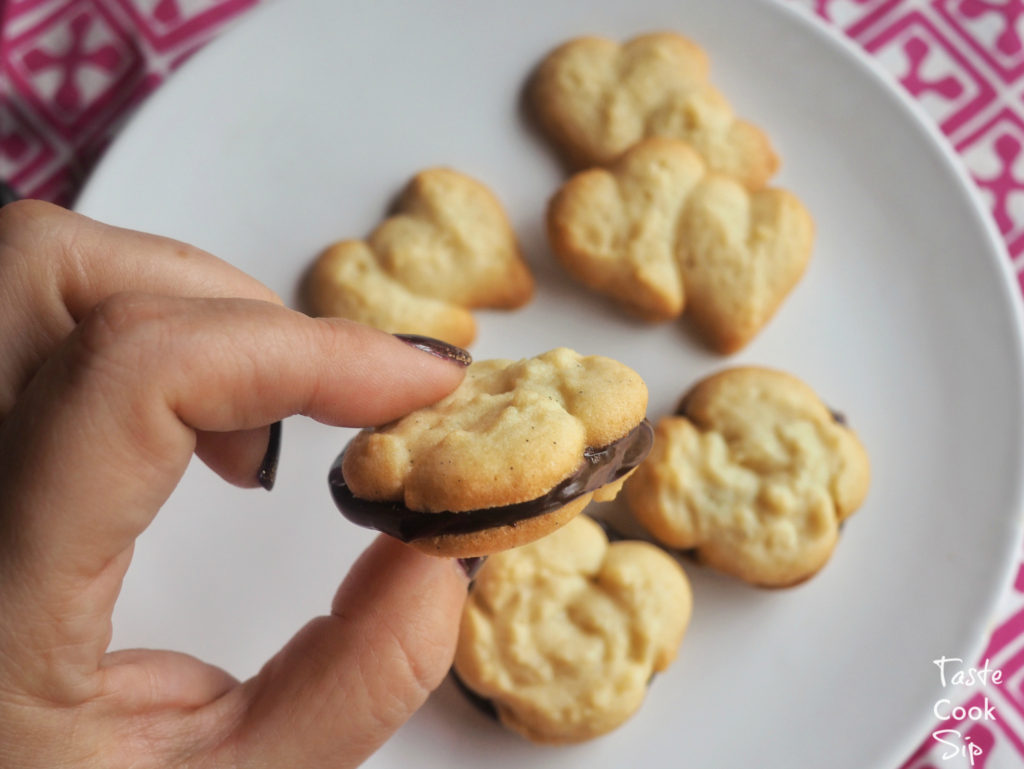 Mexican Hot Chocolate Cookies
Yield 30 sandwich cookies
Ingredients
Butter Spritz Cookies
8 ounces unsalted butter, softened (2 sticks)
1 Cup granulated sugar
1 Tablespoon Vanilla Bean Paste or extract
1 teaspoon salt
1 egg
2 1/4 Cups all-purpose flour, sifted
Mexican Hot Chocolate Ganache for filling
1 Cup Dark Chocolate baking pieces
1/2 Cup half and half
1/2 teaspoon cinnamon
1/4-1/2 teaspoon Chili Powder (not Cayenne Pepper)
1/8 teaspoon nutmeg
1/2 teaspoon Vanilla extract
pinch of sea salt
Directions
Preheat the oven to 375°F. In the bowl of a stand mixer fitted with the paddle attachment, cream butter, sugar, vanilla bean paste and salt on medium high speed, stopping as needed to scrape down the sides, until the mixture is light and fluffy, about 6 minutes. Add the egg and beat again, stopping as needed to scrape down the sides and beater, until light and fluffy, about 6 minutes.
Stop the mixer and add the sifted flour all at once. Mix on the lowest speed to incorporate with the butter mixture, less than a minute. Stop the mixer, remove the bowl and scrape down the paddle attachment. Finish mixing by hand using a large silicone spatula or wooden spoon. Do not over mix.
With the spatula or wooden spoon, fill the tube of the cookie press. Screw in the desired pattern and pipe quickly onto the surface of cool, metal baking sheet. If you are not happy with the shape of a cookie, scrape off the pan with an offset spatula and reload the dough.
Bake for 7-9 minutes for small cookies,  9-11  minutes for larger ones, turning halfway through. (If you have this set, I baked these for 10 minutes.) Spritz cookies are traditionally baked till lightly golden, but baking until a bit darker yields a crispy cookie that is ideal for using in sandwich cookies. Watch the cookies carefully the last 2 minutes for browning at the edges if you are aiming to make a lighter cookie. Remove from the oven and allow them to cool on a rack. Cool completely before serving. Unfilled cookies will keep in an airtight container for up to 3 days. Unused dough can be stored in the freezer for up to 3 months, which allows you to break out the shamrock die next month!
To make the ganache to fill the cookies, whisk together half and half and all spices in a medium saucepan on the stove over medium low heat. Heat the liquid until hot, 5-7 minutes, stirring occasionally as to not scald the mixture. Reduce heat to warm, add the vanilla extract and the  chocolate and stir with a silicone spatula until completely melted and smooth. Remove from heat. Spread ganache on flat side of cooled cookies with an offset spatula. Sandwich together and enjoy while warm or after ganache is set after cooling. (If you prefer, or if your ganache is loose, allow to cool and spread ganache onto cookies after ganache is at room temperature.)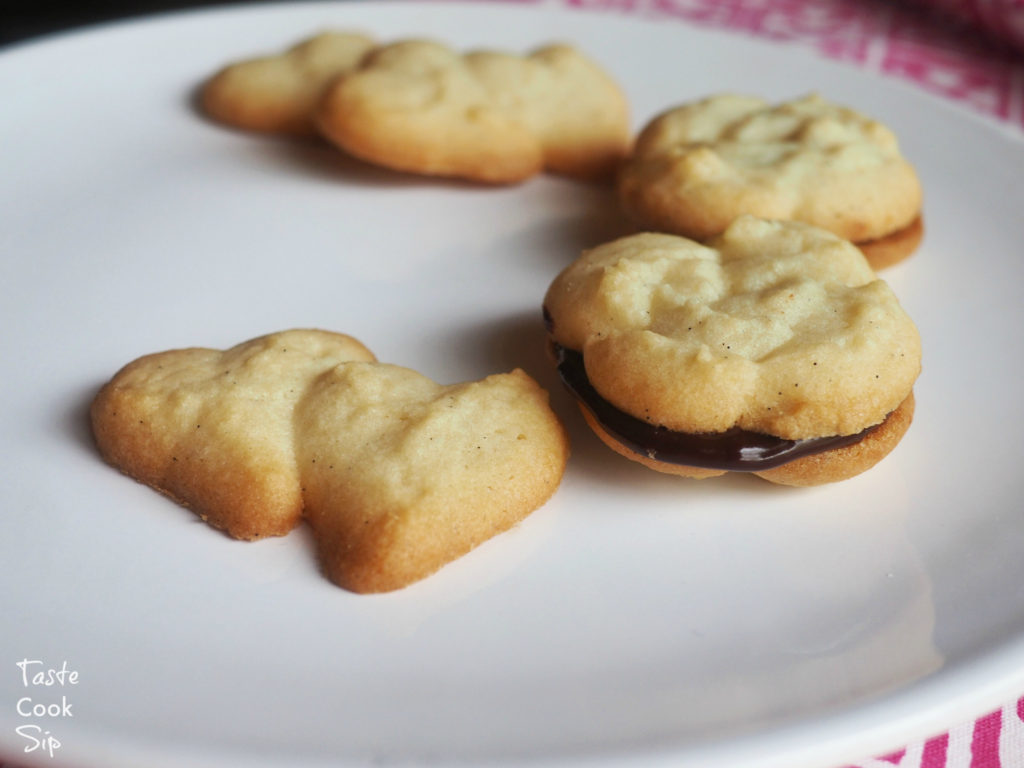 I'd like to thank fellow Good Cookie Food Bloggers, for donating, baking and raising money for Cookies for Kids' Cancer. Check out their posts for more great Valentine's inspired recipes and thanks to you for supporting this great charity!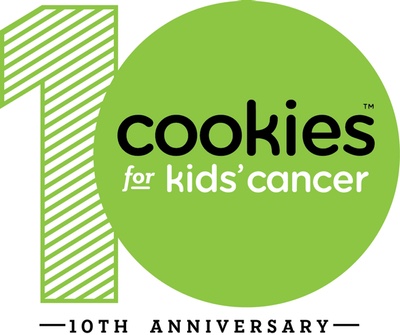 Yellow Heart-Shaped Rainbow Funfetti Cookies from Julie of The Little Kitchen
Peanut Butter Cookie Cake from Julie of Julie Blanner
Cherry Coconut Macaroons from Miranda of Cookie Dough and Oven Mitt
Brownie Cookies from Mel of Mel's Kitchen Cafe
No-Bake Chocolate Candy Cookies from Debi of Life Currents
Double Dark Chocolate Chery Black Forest Cookies from Jamie of Southern Revivals
White Chocolate Valentine Madeleine Cookies from Marlynn of Urban Bliss Life
Pillowy Soft Sugar Cookies from Stephie of Stephie Cooks
Steak with Pink Peppercorn Sauce from Sonja of Ginger & Toasted Sesame
Creamy Beet Risotto from Rachel of Copper & Verdigris
Valentine's Day Chocolate Sugar Cookies from Denise of Chez Us
Red Velvet Donuts from Gwynn of Swirls of Flavor
S'mores Brown Butter Panbanging Cookies from Marybeth of babysavers
Gluten-Free Chocolate Kiss Cookies from Audrey of Mama Knows Gluten Free
Gluten-Free Red Velvet Crinkle Cookies from Brianna of Flippin' Delicious
Rose Meringue Cookies from Kirsten of Comfortably Domestic
Raspberry Chipotle Chicken Curry from Shashi of Savory Spin
Double Chocolate Meringue Cookies from Dee of Meatloaf and Melodrama
White Chocolate Raspberry Smoothie from Sarah of Sarah Cooks the Books
Cream Wafer Cookies from Kelly of Live Laugh Rowe
White Chocolate and Raspberry Cookies from Wanda of My Sweet Zepol
Raspberry Fudge Cookies from Jessica of A Kitchen Addiction
Raspberry Cookies from Courtney of Know Your Produce
Syltkakor Raspberry Jam Cookies from Megan of Stetted
No-Bake Chocolate Tart from Rachel of Rachel Cooks
Heart-Shaped Chocolate Chip Cookies from Angela of About a Mom
Mexican Hot Chocolate Cookies from Lisa of TasteCookSip
Chai Latte Shortbread Hearts from Sue of It's Okay to Eat the Cupcake
Soft and Sweet Sugar Cookie Bars from Carlee of Cooking With Carlee
Strawberry and Cream Cookies from Ashley of A Cup of Charming
Cherry Cream Cheese Cookies from Lisa of Blogghetti
Galete Waffle Cookies from Shaina of Food for My Family
Almond Shortbread Cookies from Denise of addicted 2 recipes
Easy Strawberry Fudge from Chrysa of Thrifty Jinxy
Valentine's Day Mug Hug Cookies from Aimee of Southern From Scratch
Doughnut Sandwich Cookies from Bree of Baked Bree
Chocolate Nutella Cookies from Melissa of Modern Honey
Easy Crinkle Cookies from Amy of The Nifty Foodie
Chocolate Sugar Cookies from Becca of The Salted Cookie
Love Cake from Sara of Confectionary Tales
Meringue Cookies from Sara of My Imperfect Kitchen
Rose White Hot Chocolate from Susannah of Feast + West
Gluten Free Lavendar Shortbread Cookies from Carolann of Apron Warrior
Fruit Filled Chocolate Waffle Cones from Nicole of For the Love of Food
Chocolate and Vanilla Sweetheart Cookies from Sheila of Life, Love, and Good Food
Raspberry Chocolate Thumbprint Cookies from Nancy of The Bitter Side of Sweet
Chai Spiced Snickerdoodle Cookies from Ashley of Big Flavors from a Tiny Kitchen
Heart Happy Valentine Cookie Chocolate Cheesecake from TammyJo of The Chocolate Cult
Persian rice cookies from Caroline of Caroline's Cooking
Chocolate Dipped Espresso Shortbread Cookies from Julianne of Beyond Frosting
Fudgy Chocolate Sixlets Cookies from Barbara of Barbara Bakes
I enjoy writing about and participating in the food, wine and culinary scene in Central FL in my off hours. I started Orlando Uncorked, a local non profit wine education group, to promote the approachability of wine and donated our event proceeds to local area charities. The popular wine tasting events grew into structured wine classes and finally, food and wine writing for Orlando Home & Leisure Magazine and The Seminole Chronicle. Thanks for stopping by and if you'd like to join in on my fun, follow me on Twitter, Instagram, Untappd, Drync & Vivino @WineChix . Cheers!
20 Comments