October 21, 2013 | Posted in:Dining out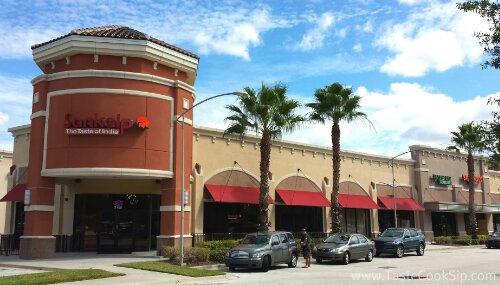 Sankalp Orlando is located the corner of South Orange Blossom Trail and Sandlake Road in the plaza where the Michael's and Ulta are located. The large space has a contemporary feel from the warehouse style ceilings to the industrial light fixtures. The full menu is pretty expansive and located online here. Given so many choices, my dining companion and I decided to try the lunch buffet to get a feel for the cuisine and try some new dishes.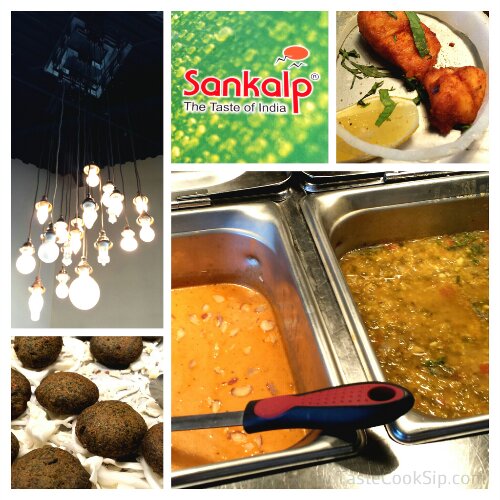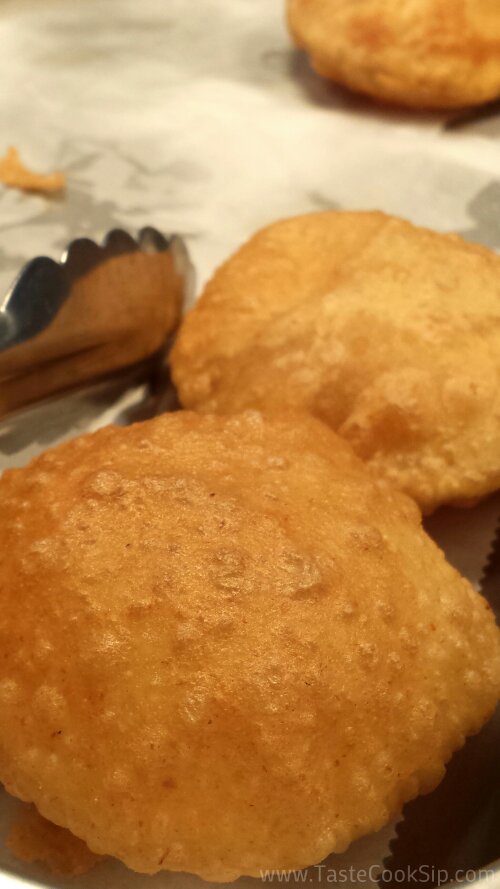 The warm buffet had plenty of non meat (vegetarian) options and there was also Goat Biryani, Andhra chicken curry and a southern fish dish. The fish was a grilled salmon coated in a fragrant spice rub and while the flavors were great, the fish was very dry. My companion mentioned the saucy Andhra Chicken curry was tasty, but the chicken was similarly dry.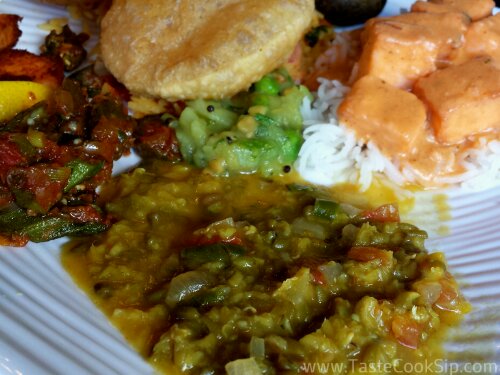 The vegetarian dishes were all delicious and I'd order any one of them again. The Bhindi Do Pyaza featured Okra and onions, cooked in tomatoes and the vegetables were nicely prepared. (No slimy okra!) The Puri (Fried flatbread) was a light, crisp texture great for when scooping up the Green Moong Dal. Hariyali Tikki was a spiced potato and spinach cake featuring really nice layers of spice.  Paneer Shahjahani  was given some added depth of flavor when eaten with the savory Tomato Rice. We both enjoyed the varied flavors in all of the dishes and were very surprised at the amped up spice level in several items, especially for a buffet. I'm all for spicy goodness- so there were no complaints here! I tried many new dishes that I would certainly order again.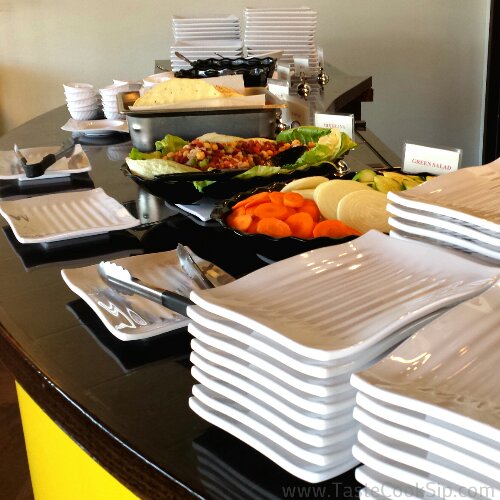 Also included with the lunch was a small salad bar and a dessert, however, we were full after the buffet we didn't get around to the other items. Service was friendly, we were given menus upon request, our waters refilled promptly and I requested a side of Tamarind which was quickly brought out. The Chef replenishing the buffet took a moment to speak with us and was very nice. The restaurant was very busy when we dined here, if you are leaving the office for a quick lunch plan to arrive closer to 11:30 when the buffet opens, as the tables were full shortly after noon.  The lunch buffet is currently $9.99 and a nice price for a filling, savory meal.
Sankalp Orlando
1700 Sand Lake Rd
Orlando, FL 32809
(407) 251-0707
Hours
Monday            Closed
Tuesday            11:00 am – 3:00 pm, 5:00–10:00 pm
Wednesday      11:00 am – 3:00 pm, 5:00–10:00 pm
Thursday          11:00 am – 3:00 pm, 5:00–10:00 pm
Friday               11:00 am – 11:00 pm
Saturday          11:00 am – 11:00 pm
Sunday             11:00 am – 10:00 pm

[contact-form][contact-field label='Name' type='name' required='1'/][contact-field label='Email' type='email' required='1'/][contact-field label='Website' type='url'/][contact-field label='Comment' type='textarea' required='1'/][/contact-form]
I enjoy writing about and participating in the food, wine and culinary scene in Central FL in my off hours. I started Orlando Uncorked, a local non profit wine education group, to promote the approachability of wine and donated our event proceeds to local area charities. The popular wine tasting events grew into structured wine classes and finally, food and wine writing for Orlando Home & Leisure Magazine and The Seminole Chronicle. Thanks for stopping by and if you'd like to join in on my fun, follow me on Twitter, Instagram, Untappd, Drync & Vivino @WineChix . Cheers!