December 16, 2015 | Posted in:Cooking
Spiced Cookie Butter Butterscotch Chip Cookies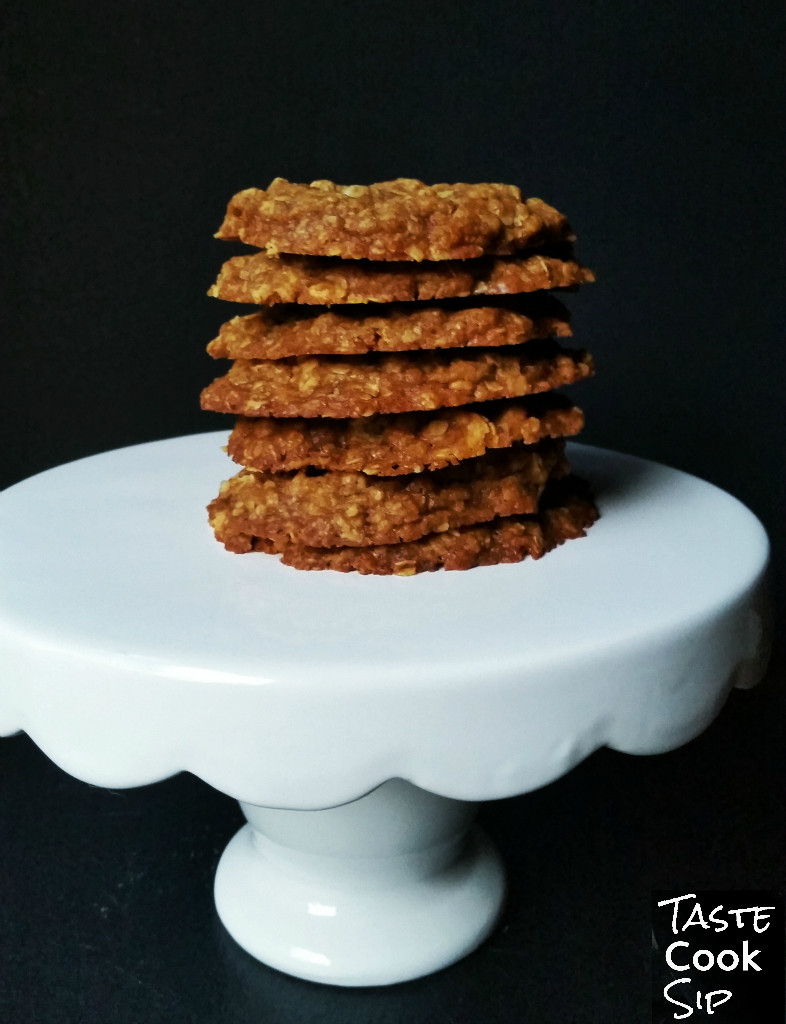 It's that cookie swapping time of year and I knew that I wanted to have some fun with cookie butter (or Biscoff spread, if there is not a Trader Joe's in your area) this year. Mostly, I eat cookie butter out of the jar, with a spoon. I may have done that while perfecting this recipe, OK, I did do that while perfecting this recipe!
With the onset of the cooler weather comes the flavor of pumpkin spice, but nutmeg and mace has me feeling the holiday season. The addition of either magical baking spice takes these cookies into my holiday happy place. When getting ready to bake, I recommend using a cookie scoop to portion out. If you want a perfectly round cookie you can roll these into a ball, but scooping and flattening works just well.
Spiced Cookie Butter Butterscotch Chip Cookies
Yield 30 cookies
Ingredients
• 3/4 cup (95g) all-purpose flour
• 1/2 teaspoon salt
• 1/2 teaspoon baking soda
• 1/2 teaspoon baking powder
• 1/2 cup unsalted butter, melted
• 3/4 cup packed dark brown sugar
• 1 large egg
• 1/2 cup Pumpkin Spice Cookie Butter Spread (Or Biscoff spread with 1 tsp pumpkin pie spice added)
• 1/8 tsp mace (or nutmeg)
• 2 teaspoons vanilla extract
• 2 cups quick cook oats
• 1 cup Butterscotch chips
Directions
Preheat oven to 350F degrees. Line two large cookie sheets with parchment paper or silicone baking mats. Set aside.
Mix flour, baking soda, baking powder and salt together in a large bowl. Set aside.
In 4 quart saucepan, melt the butter over medium low heat. Remove the pan from heat and stir in brown sugar until there are no visible lumps. Mix in the Cookie Butter spread until fully incorporated. Then add egg, vanilla and mace to pan and stir until combined. Pour the wet ingredients into the dry ingredients and mix together with a large spoon or silicone spatula. Fold in the quick cook oats and the butterscotch flavored chips.
Using a small cookie dough scoop, scoop out 1 ½ tablespoons of dough and place onto cookie sheet or roll the dough into balls and space 12 balls onto each cookie sheet. Flatten dough with wet fingers to form thick, flat disks.
Bake the cookies for 8 minutes until golden brown. If needed, allow cookies to cool on the cookie sheet for 1-2 additional minutes to set up. Cool completely on a wire rack.
I'd like to thank fellow Great Food Blogger Cookie Swap participants, for baking and raising money for Cookies for Kids' Cancer. I received some amazingly delicious cookies this year from Carrie, Melissa and Jen. Be sure to check out their recipes!
If you are seeking more cookie inspiration, may I suggest my previous years Salted Caramel Shortbread Bars and Not your Grandma's Thumbprint cookies made with my quick Raspberry Rosewater Jam. Have a wonderful Holiday season!
I enjoy writing about and participating in the food, wine and culinary scene in Central FL in my off hours. I started Orlando Uncorked, a local non profit wine education group, to promote the approachability of wine and donated our event proceeds to local area charities. The popular wine tasting events grew into structured wine classes and finally, food and wine writing for Orlando Home & Leisure Magazine and The Seminole Chronicle. Thanks for stopping by and if you'd like to join in on my fun, follow me on Twitter, Instagram, Untappd, Drync & Vivino @WineChix . Cheers!