December 15, 2014 | Posted in:Sweet Treats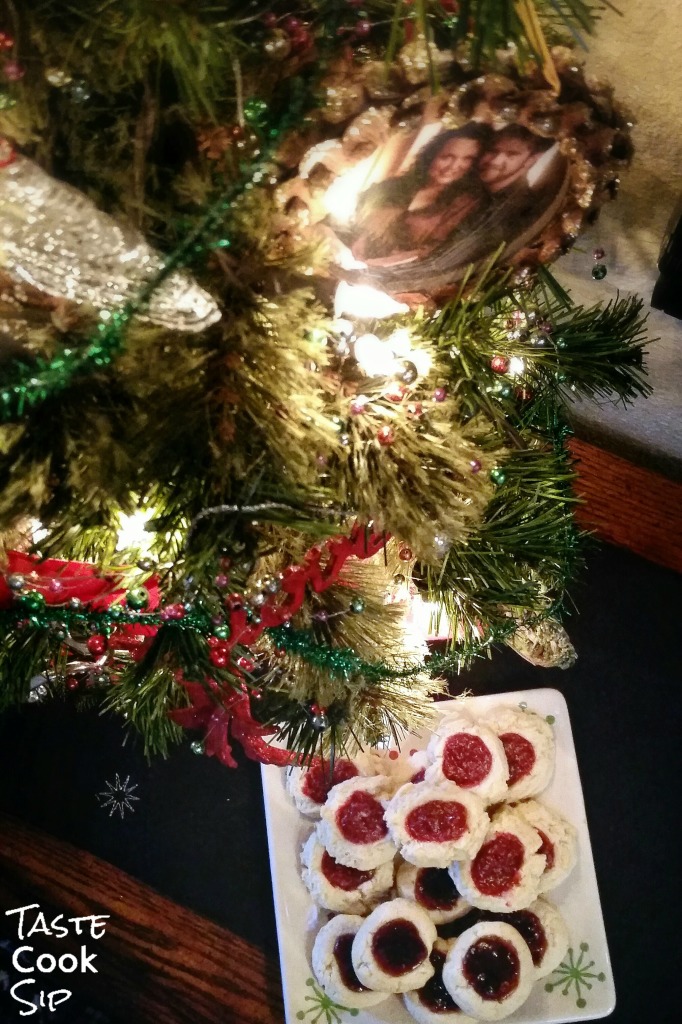 Christmas was always magical as a child, greatly in part to my grandmother. The whole family would journey to the grandparent's house in Chicago every year, the annual pilgrimage was a tradition. We arrived to a cheery house filled to the brim with holiday spirit, with three decorated trees and lots of baked goodies. My Grandma & Great Grandma always waited until I arrived to make the Thumbprint cookies.
I started "baking" at a very young age; grabbing a stool to get to counter-height in the large kitchen. My tiny, flour-coated fingers pressed into the soft dough, forming a small divot for the waiting jam. My grandmother would scoop the jam and then slide the sheet pan into the oven. 8-12 min later, the smell of Thumbprint cookies filled the kitchen with Christmas love.
I recently wrote the above passage at the 2014 #FoodFightWrite conference held in Las Vegas. I was completing an exercise in the interactive writing session lead by Kathleen Flinn, author of best selling memoir, The Sharper Your Knife, the Less You Cry. I'll talk more about the impact of those sessions in a later post. Writing those words put me on a mission to rework my Grandma's recipe for my second year participating in The Great Food Blogger Cookie Swap, to benefit Cookies for Kids' Cancer.
This final, final version is a recipe that I'm very happy with and the cookies come together very easily. You can use store-bought or homemade preserves. The Raspberry Rosewater Jam is very simple to make and a nicely tart contrast to the sweeter dough. The chilled dough can be scooped out and filled as is, or rolled into tidy balls. I hope you share some of these cookies with your loved ones this holiday season.
Not your Grandma's Thumbprint cookies
1 cup butter, softened
1 1/2 cups white sugar
1 (8 ounce) package cream cheese, softened
1 egg yolk
1 tsp vanilla
1/2 tsp ground vanilla beans (optional)
3 1/2 cups all-purpose flour
1 teaspoon baking powder
1/2 teaspoon salt
1 cup Raspberry, Raspberry Rosewater or apricot preserves
1/3 cup confectioners' sugar for decoration
In a large bowl of a stand mixer, cream together the butter, sugar, and cream cheese until smooth. Beat in the egg yolk, then stir in vanilla and ground vanilla beans if using. Combine the flour, salt and baking powder; slowly add the dry ingredients into the cream cheese mixture until just combined. Cover, and chill until firm, about 1 hour, or overnight.
Preheat oven to 350 degrees F (175 degrees C). Using a medium cookie scoop,(2 ¾" cookies) Scoop and place dough 2 inches apart on parchment lined, ungreased cookie sheets. Using your bent index finger knuckle, make a deep indention in the center of each mound of dough, and fill with ½ or so teaspoon of preserves.
Bake for 11 minutes in the preheated oven, or until edges are golden. Allow cookies to cool on the baking sheets for 2 minutes before removing to wire racks to cool completely. After cookies have cooled, sprinkle with confectioner's sugar, if you choose.
Raspberry Rosewater Jam
6 cups fresh raspberries (about 6-7 .5 pint packages)
1 ¼-1 ½ cups sugar
1 tablespoon lemon juice
¼ – ½ teaspoon rose water (I used Nielson-Massey Rose Water, available online or at gourmet markets.)
Rinse raspberries briefly under water and thoroughly drain. Combine the raspberries, 1 ¼ cups of the sugar and lemon juice in a nonreactive, large, high-sided sauce pan or stock pot. Cook over high heat, stirring frequently, until the sugar is melted…(Taste and adjust your sugar by additional ¼ cup if needed, based on ripeness and sweetness of berries!)…until mixture comes to a boil. Reduce the heat to medium-high and cook, stirring constantly, until the berries have broken down and the mixture is thickened and shiny, about 8 to 10 minutes. Remove from the heat.
Stir in ¼ teaspoon rose water (taste) and add ¼ teaspoon if needed, based on ripeness and sweetness of berries. Store in the refrigerator for several weeks.
*Store at room temperature for up to 1 year if processed in a water bath.
Interested in last years cookie? Try my Salted Carmel Shortbread Bar.
I enjoy writing about and participating in the food, wine and culinary scene in Central FL in my off hours. I started Orlando Uncorked, a local non profit wine education group, to promote the approachability of wine and donated our event proceeds to local area charities. The popular wine tasting events grew into structured wine classes and finally, food and wine writing for Orlando Home & Leisure Magazine and The Seminole Chronicle. Thanks for stopping by and if you'd like to join in on my fun, follow me on Twitter, Instagram, Untappd, Drync & Vivino @WineChix . Cheers!
4 Comments
Champagne and Roses Cupcakes - The Crumby Cupcake - […] product, that is wonderful in Greek and Middle Eastern pastries like baklava and rice pudding. A fellow blogger used it in…