March 17, 2014 | Posted in:Brunch, Dining out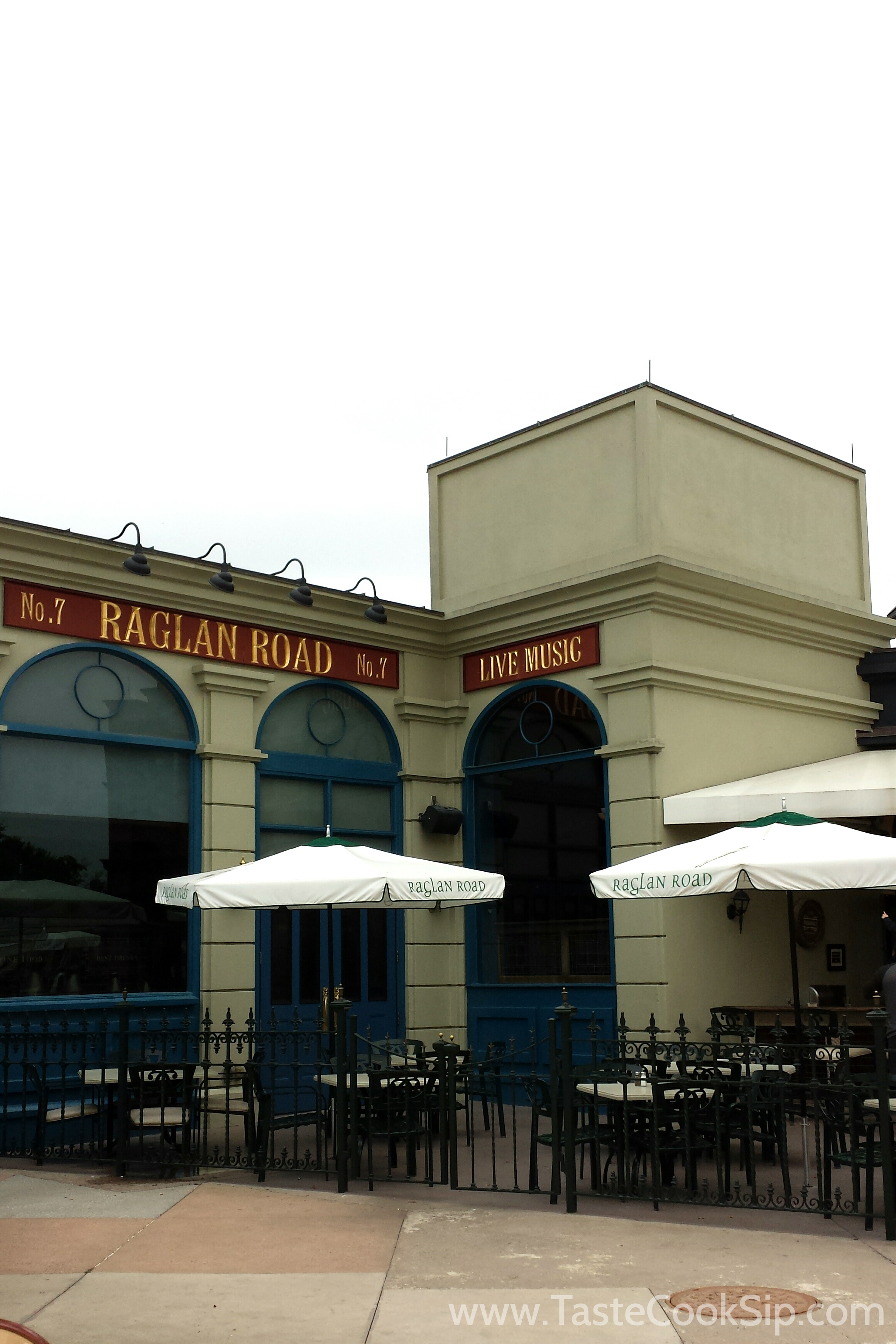 Raglan Road Irish Pub and Restaurant is nestled within the Downtown Disney shopping and dining complex. Perhaps you've been thinking of fun Irish places to visit for St. Patrick's Day? Raglan Road's Mighty Festival St. Patrick's Week started on March 7th and lasts through today, St. Patrick's Day. The festival is filled with a variety of Irish bands and performances from Irish dancers- including Ronan McCormack from the original Riverdance cast. Ronan is also teaching Irish dancing classes for those aspiring Irish step dancers.
Of course, St. Patrick's Day is a fun time to visit Raglan Road! But why limit the fun and wonderful Irish cuisine to just March 17th? For those seeking a wonderful Sunday Brunch, a traditional Sunday Dinner or a weeknight escape to a festive atmosphere, Raglan Road Irish Pub and Restaurant should be at the top of your list, year-round. I recently visited Raglan Road for their popular Rollicking Raglan Sunday Brunch along with Sunshine Baker from Crave Local Orlando, who wrote up a nice post here. We sampled several dishes featuring the delicious cuisine of Master Chef Kevin Dundon, Irish TV chef and author of popular cookbooks specializing in Irish cuisine.
If nothing springs to mind when you think "Irish Cuisine", I'll help to fill in the blanks with some of the selections we sampled through. To start, Ireland has access to a bounty of wonderful seafood and shellfish, which was prepared beautifully at Raglan Road. The Scallops were tender and perfectly cooked. I couldn't choose a favorite between the citrus lime dipping sauce and the sweet chili jam, both were flavorful and brought out different flavors in the sweet scallops.
The Citrus Salmon salad was a nice balance of bright acidity from the citrus and a bit of smokiness from the grilled salmon. A nice choice for either lunch or dinner.
There are plenty of breakfast and brunch items offered on the Raglan Road Brunch menu. We perused the Traditional Irish Breakfast and Eggs Benedict, but after seeing a stack of The Pancakes Diaspora arrive at an adjoining table, we were swayed. The generous portion was airy and light, but with nice body and a satisfying chew present in the texture. The fluffy cakes stood up to the maple syrup and the berry compote without getting soggy. While this dish had tons of flavor, it was not overly sweet thanks to the addition of the creme fraiche.
The Lobster Club had plenty of sweet lobster meat to fill this sandwich and the saltiness of the prosciutto was a nice addition. A choice of sides is available.
The Roast of the Day meal is offered during brunch. The hearty portion will fill up even the hungriest of diners and is a nice option for those dining later in the day. The beef was cooked to medium rare, very tender and the red wine au jus was a nice compliment the beef. The traditional Yorkshire pudding was included, the warm popover was tender and perfect for soaking up the au jus.
Also available for parties of 4 or more, is the family style "Host the Roast" meal. Reservations that book the meal by 1:00PM the Friday prior can choose between a choice of Roast Loin of Beef, Roast Pork Loin, Roast Leg of New Zealand Lamb, Roast Lemon Thyme Chicken and sides, for a traditional Irish Sunday dinner experience.
There are many choices for dessert from the kitchen and the bar menu. We started by sampling the Irish Coffee and Bailey's Shake, both were delicious. I enjoyed the traditional Irish Coffee made with whiskey, a bit of sugar, whipped cream and coffee. For those seeking a sweeter option in our warm Florida climate, the Bailey's milkshake made with ice cream, Bailey's Irish Cream and coffee liquor is a decadent and yummy choice.
We finished with the popular Ger's Bread & Butter Pudding. The bread pudding was made with brioche bread in a traditional egg custard, with the addition of golden raisins. Because it was made a bit on the drier side, the pudding absorbed and welcomed the addition of the accompanying sauces. The house-made butterscotch sauce and crème anglaise will have you clamoring for every last bite! The dessert portion was easily enough for two people to share after a nice meal.
The musicians and dancers are delightful, providing ambient music and rousing numbers that had guests of all ages clapping along. Irish dancers headed into the audience to perform and to invite guests on stage to join in on the fun and even learn a step or two. The floor show is included at no charge, so for the price of a regular meal out- you and your family can enjoy a lingering meal and an entertaining Irish experience.
The experience of Raglan Road is much more than the wonderful Irish cuisine, it's the authentic Irish atmosphere and entertainment that guests enjoy throughout the visit. That in mind, plan to sit and stay awhile and remember that Raglan Road celebrates the Irish spirit year-round. Check out their online events calendar for updates and reservations can be made by calling 407-938-0300 or by booking online through Open Table. Sláinte!
Disclosure: I was a guest in connection with a media preview tasting. No other form of compensation was received and the opinions in this post are my own. Cheers!
[contact-form][contact-field label='Name' type='name' required='1'/][contact-field label='Email' type='email' required='1'/][contact-field label='Website' type='url'/][contact-field label='Comment' type='textarea' required='1'/][/contact-form]
Google+

I enjoy writing about and participating in the food, wine and culinary scene in Central FL in my off hours. I started Orlando Uncorked, a local non profit wine education group, to promote the approachability of wine and donated our event proceeds to local area charities. The popular wine tasting events grew into structured wine classes and finally, food and wine writing for Orlando Home & Leisure Magazine and The Seminole Chronicle. Thanks for stopping by and if you'd like to join in on my fun, follow me on Twitter, Instagram, Untappd, Drync & Vivino @WineChix . Cheers!
1 Comment
Taste Cook Sip | Cocina 214 Restaurant and Bar creates authentic Tex-Mex flavor with fresh ingredients. [Review and Recipe] - […] Kelli from Orlando Lady Crafters gives the details on Happy Hour at Cask & Lader Mary from Just Plum…