April 28, 2014 | Posted in:Around Town, Dining out, Wine Tasting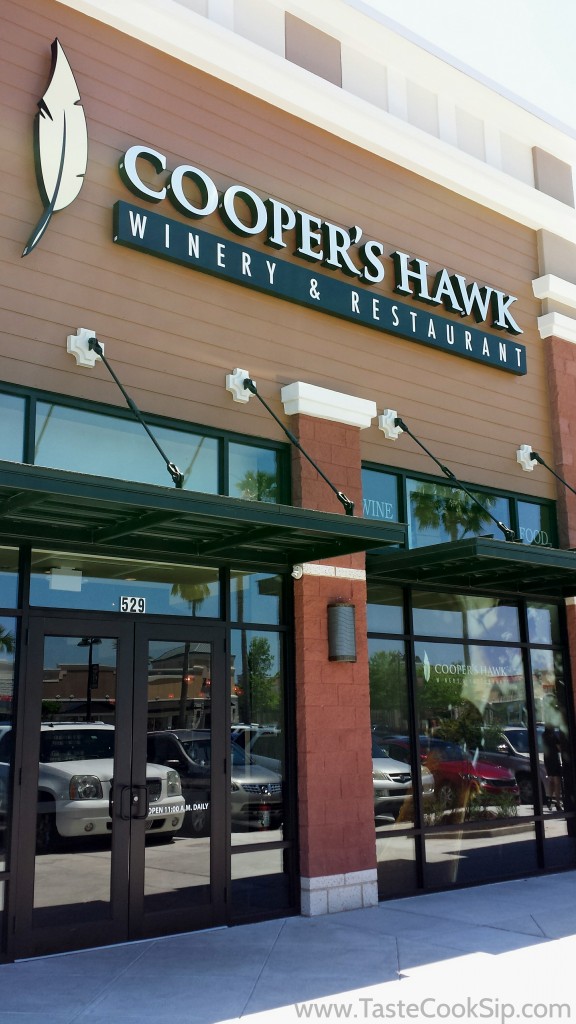 Cooper's Hawk Winery & Restaurant has broken into the Orlando restaurant market with the first of two operations opening today in the Waterford Lake Town Center. Located next to the Pier One and just steps from the Regal 21, the winery and restaurant boasts two outdoor patios, several indoor dining rooms, a large bar area and separate tasting room which greets guests upon arrival. In addition to over 40 types of Cooper's Hawk wines onsite, guests have the option of domestic and craft beers, a full cocktail bar and a full lunch and dinner menu available throughout.
Cooper's Hawk was founded in the Chicago area by Tim McEnry and his wife, Dana. Over the last nine years they've grown their love and appreciation of wine into fifteen Cooper's Hawk Restaurants with four more restaurants opening by the end of 2015. The Orlando area is receiving a second location, which just broke ground last week. Cooper's Hawk Winery and Restaurant on International Drive is slated to open in September 2014, look for more information right here on Taste Cook Sip.
Upon arriving, guests can partake of a wine tasting while waiting for their table to be ready, or they can choose to spend their time more casually. (Maybe, enjoy a tasting and move to the bar area or shaded patio for bites.) Cooper's Hawk offers a tasting of the month ($7), a sweet tasting ($7) and a Lux tasting ($12). Each tasting provides the sampler with an opportunity to get a feel for the Cooper's Hawk wines. Not sure about wine? The friendly staff will give you some nice information to get you going and the helpful tasting sheets provide a nice guideline.
Along with the wine tasting area is a dessert counter. We sampled several truffles and they were very tasty, I particularly enjoyed the Zinfandel truffle, dark chocolate ganache made with Cooper's Hawk Red Zinfandel wine. All truffles are made by two staff pastry chefs and each month there will be a rotation of some flavors to highlight the season.
On the way to our seats, we passed the Bordeaux Reserve barrel sampling station, this wine is bottled once per year, but available by the glass ($8.75) in the restaurants.
Once you are seated, the fun begins. If you order a red wine, be prepared for the table side decanter to arrive. Your server will walk you through using it or you can defer to their expertise. When looking at the large food menu, there are suggested pairings of wines (look for the bin numbers) if you are looking for some guidance with your meal.
I love a cheese board and Cooper's Hawk had a nice representation of cheeses that would work with many wines. I was informed that they will be swapping out the various artisan cheeses, so if you discover a new favorite- be sure to ask your server for all of the delicious cheesy details.
The Flatbreads would be a nice starter to share, the Caprese we sampled was crisp cooked and had several layers of flavors.
Cooper's Hawk wine is available to purchase in the lobby. You may purchase by the single bottle or you may be interested in joining one of the Cooper's Hawk Wine Clubs. Wine Club members accrue rewards points, are invited to private tastings and receive special discounts throughout the lobby store. I look forward to returning again to explore more of the wines and menu items. Check back for review updates and recommendations.
At Cooper's Hawk Winery & Restaurant Orlando Tim Mahler, General Manager, shares a barrel sample of the Cooper's Hawk Bordeaux Reserve. I thoroughly enjoyed the body and fruit in this wine!


Disclosure: I was a guest at Cooper's Hawk for a media preview event. No other form of compensation was received and the opinions in this post are my own. Cheers!
[contact-form][contact-field label='Name' type='name' required='1'/][contact-field label='Email' type='email' required='1'/][contact-field label='Website' type='url'/][contact-field label='Comment' type='textarea' required='1'/][/contact-form]
I enjoy writing about and participating in the food, wine and culinary scene in Central FL in my off hours. I started Orlando Uncorked, a local non profit wine education group, to promote the approachability of wine and donated our event proceeds to local area charities. The popular wine tasting events grew into structured wine classes and finally, food and wine writing for Orlando Home & Leisure Magazine and The Seminole Chronicle. Thanks for stopping by and if you'd like to join in on my fun, follow me on Twitter, Instagram, Untappd, Drync & Vivino @WineChix . Cheers!
2 Comments
Cooper's Hawk, Waterford Lakes Grand Opening, Orlando Event Photographer | Orlando Wedding Photographers - Engagement Photographer - Wedding Photography In Orlando Florida Orlando Photographer - […] this past weekend. If you want to learn more about Cooper's Hawk, I invite you to check out this…