April 4, 2014 | Posted in:HypeOrlando, Recipes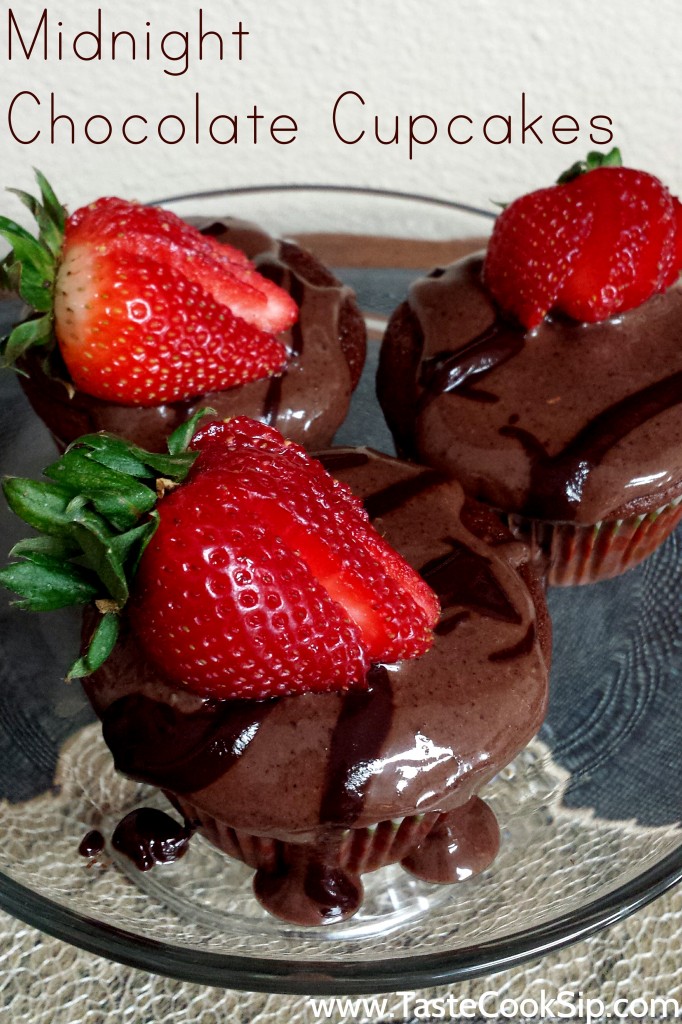 My friend Lauren at In The Spotlight on HypeOrlando.com finished reading the first book in the Divergent series with an intense craving for Chocolate cake. Lauren asked me to share one of my favorite Chocolate Cake recipes in her post here. Because it's spring and strawberries are in season, I decided to adapt a delicious cupcake recipe to allow for some options. It comes together easily and can be made into a fancy one layer cake or doubled for a more rustic two layer cake.
Chocolate cupcakes can range in taste and texture. I fell in love with these chocolate cupcakes at Midnight Blue, a great downtown Orlando eatery that is no more. Sour cream is the secret weapon; the cake is moist and chocolatey, while being so light and airy. The owner and chef were kind enough to share their recipe with me and I've tweaked it over the years. The recipe below makes 12 generous cupcakes or one layer cake.
While complete enough to stand on it's own, think about adding fresh strawberries or raspberries to balance out the chocolate. The cupcakes are delicious when paired with a sparkling wine. While these cupcakes are a great finish to dinner, they make a wonderful ending to brunch, afternoon tea or a bridal shower.
Midnight Chocolate Cupcakes
Adapted by Lisa Wilk of TasteCookSip.com
Cupcakes
1/4 cup dark brown sugar
1/2 cup light brown sugar
1/2 cup unsweetened cocoa powder
1 tsp instant espresso granules
1/3 cup canola oil
2 large eggs
1/2 cup milk
2 tsp vanilla extract
1 1/4 cups all purpose flour
1 1/2 tsp baking powder
1/2 tsp baking soda
1 cup low fat sour cream
Preheat oven to 350 degrees. Line cupcake tins or cake pan with parchment. In a large bowl, beat brown sugar, sugar, cocoa, oil, eggs, milk and vanilla. In another bowl, stir together flour, baking powder and baking soda. Stir the dry ingredients into the cocoa mixture in batches, alternating with the sour cream, and mix until just combined.
Pour the mixture in paper lined cupcake tins or 9″ cake pan.  If making cupcakes, bake for 20 minutes or until tester comes out clean. If making cake, bake for 30 minutes or until tester comes out clean. (Recipe should be doubled to make 2 layer cake, as pictured below.)
Chocolate Sour Cream Icing
1 cup low fat sour cream
2 cups confectioners sugar
3 Tbsp unsweetened cocoa
3 Tbsp semi-sweet chocolate chips
In a microwavable bowl, heat chocolate on high for about 30 seconds. Stir until smooth. In a mixer, beat south cream, confectioners sugar, cocoa and melted chocolate together until the mixture is smooth. Pour over the top of the cupcake. Chill prior to serving.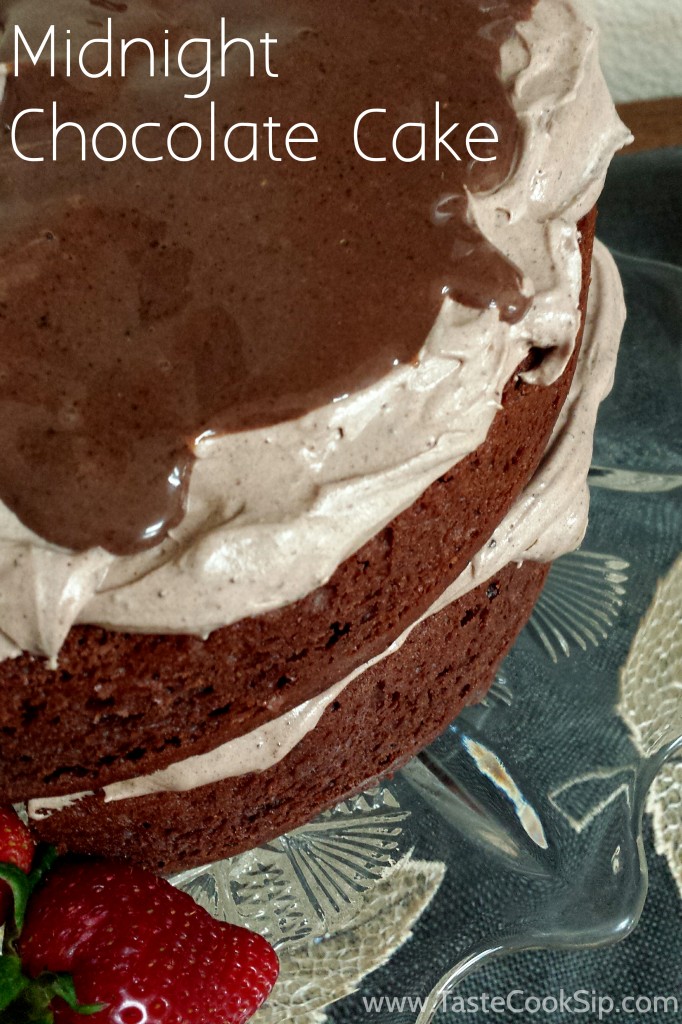 To frost as a cake, you've got options!
If you've made one layer cake,  place on cake plate and top with the chocolate sour cream icing and then berries. Pour any remaining icing into a decorative dish to serve on the side or use as a dip for fresh berries the next day.
If you've made two layer cakes, you'll need a layer of thicker frosting for the middle. Whip 2 cups of  whipped cream until stiff. (Or place 1 container of non dairy whipped topping in bowl.) Gently fold in 1 cup of  chocolate sour cream icing until fully incorporated. Frost cake layers and pour on remaining chocolate sour cream icing just prior to serving.
For added decoration to cake or cupcakes, melt 1 cup of chocolate chips on the stove-top over low heat, with 3/4 cup of heavy whipping cream, stir constantly until melted. Drizzle the chocolate sauce over the icing.
Store cake in refrigerator prior to serving.
Based on cupcake recipe from Midnight Blue restaurant,  from Vanda Hongsranont and Chef Devon.
Recipe yields 1 9″ layer cake or 12 cupcakes
[contact-form][contact-field label='Name' type='name' required='1'/][contact-field label='Email' type='email' required='1'/][contact-field label='Website' type='url'/][contact-field label='Comment' type='textarea' required='1'/][/contact-form]
I enjoy writing about and participating in the food, wine and culinary scene in Central FL in my off hours. I started Orlando Uncorked, a local non profit wine education group, to promote the approachability of wine and donated our event proceeds to local area charities. The popular wine tasting events grew into structured wine classes and finally, food and wine writing for Orlando Home & Leisure Magazine and The Seminole Chronicle. Thanks for stopping by and if you'd like to join in on my fun, follow me on Twitter, Instagram, Untappd, Drync & Vivino @WineChix . Cheers!
2 Comments
delicious chocolate cupcakes | - […] Midnight Chocolate Cupcakes […]
In The Spotlight | Divergent inspired: Double chocolate cake recipe - […] yields 19″ layer cake or 12 cupcakes which you can find the instructions for on the Taste Cook Sip…