May 6, 2015 | Posted in:Cooking
I'm a fan of quick and healthy, and this Mixed Berry Yogurt Smoothie could not be simpler to prepare. With no kitchen equipment needed, you can stockpile your fridge for a week of breakfasts or have the perfect brunch starter, packed with protein and organic goodness. Best yet, if you are looking for a way to pack more fruits and veggies into your meals, you can do so in a burst of intense berry deliciousness. Who would guess these bottles of juice had 7 strawberries, 1/2 a kiwi, 1 1/2 bananas, the juice of 2 beets, 3/5 carrot and 1 1/6 of an apple? Or 25 blueberries, 23 blackberries,  1 1/16 bananas, the juice of 4 2/3 beets, 3/5 carrot and 2 3/4 apples? I enjoyed the rich vanilla flavor of the Stonyfield Smooth and Creamy French Vanilla yogurt, which provided a wonderfully creamy base for the the True Organic Juice.
Leave the juicer and the blender in the cabinet, grab a mason jar and let's shake up your breakfast and brunch routine!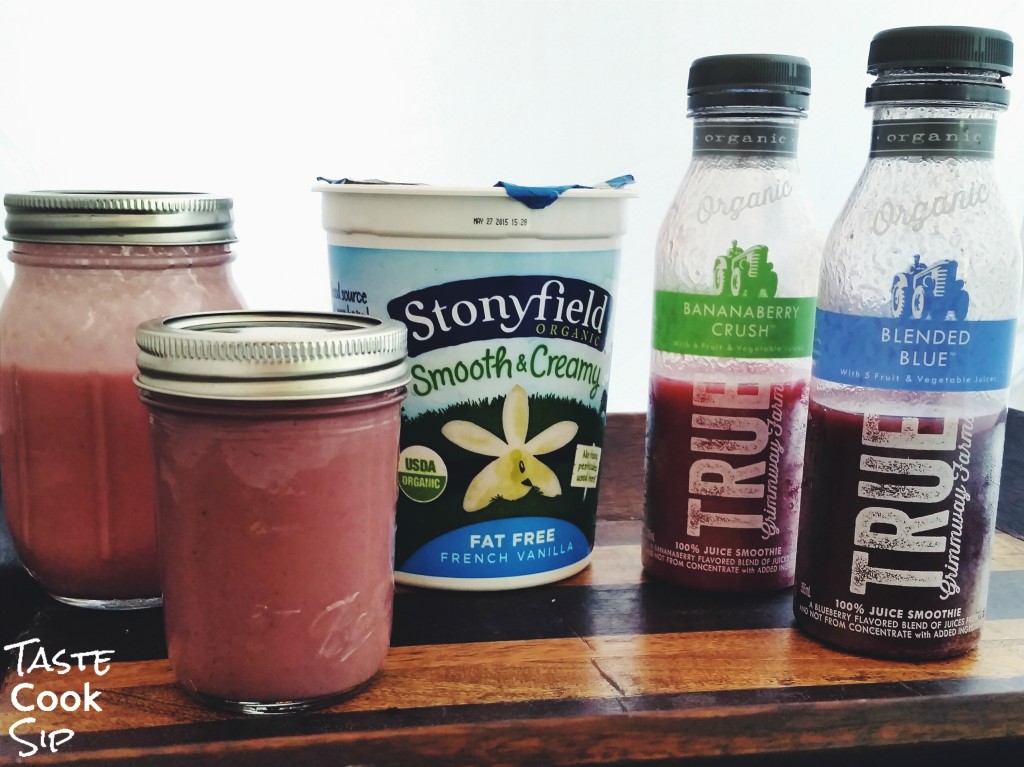 Mixed Berry Yogurt Smoothie
Ingredients
1/2 cup Stonyfield Organic Smooth & Creamy Fat Free French Vanilla yogurt
3/4 cup True Organic Juice by Grimmway Farms, Blended Blue or BananaBerry Crush
Directions
Place ingredients into a pint size mason jar, secure lid.  Shake until incorporated, about 30 seconds. Remove lid and enjoy! Transfer to a 6oz size mason jar and secure lid for easy storage. Makes 1 breakfast portion, or 2 starter portions.
Disclaimer: Thank you to #BrunchWeek Sponsors: Bob's Red Mill, Cabot Creamery Cooperative, California Walnuts, Dixie Crystals, Grimmway Farms/Cal-Organic/True Juice, KitchenAid, Le Creuset, Nielsen-Massey Vanillas, Pacari Chocolate, Stonyfield Organic, Vidalia Onions, and Woot Froot for providing the #BrunchWeek prizes free of charge. These companies also provided the bloggers with samples and product to use for #BrunchWeek. All opinions are my own.
Welcome to the third annual #BrunchWeek hosted by Terri from Love and Confections and Shaina from Take A Bite Out Of Boca.Celebrate Brunch with us this week as we prepare for Mother's Day. 30 Bloggers from around the country will showcase their best brunch dishes, from cocktails to casseroles, breakfast breads, sandwiches and salads – there is something for everyone.
Come see what today's #BrunchWeek Bloggers are creating!
BrunchWeek Beverages:
Mixed Berry Yogurt Smoothie from Taste Cook Sip.
Tequila Sunrise from A Day in the Life on the Farm.
Sparkling Pineapple Mojitos from girlichef.
BrunchWeek Egg Dishes:
Baked Eggs over Maple Roasted Vegetables from Big Bear's Wife.
Bacon and Egg Grilled Cheese Sandwich from Making Miracles.
BrunchWeek Breads, Grains and Pastries:
60 Minute Cinnamon Rolls from Love and Confections.
Chocolate and Walnut Challah from The Little Ferraro Kitchen.
Braided Ham and Cheddar Bread from Sarcastic Cooking.
Pear Oatmeal Crème Brûlée from The Spiffy Cookie.
Tattie Scones with Cheddar and Chives from The Redhead Baker.
Chocolate Chip Flaxseed Waffles from Hip Foodie Mom.
Chile Relleno Quiche from Cooking in Stilettos.
Double Chocolate Sweet Rolls from It Bakes Me Happy.
Sour Cream Streusel Coffee Cake from That Skinny Chick Can Bake.
Peanut Butter & Jelly Granola from Baking a Moment.
BrunchWeek Main Dishes:
Harissa Chorizo Hash from greens & chocolate.
Smoked Salmon Canapes with Whipped Chive Cream Cheese from The Suburban Soapbox.
BrunchWeek Fruits, Vegetables and Sides:
Kinpura Gobo from Culinary Adventures with Camilla.
Tropical Fruit Salad with Vanilla and Lime from Healthy Delicious.
Beet and Heirloom Carrot Rosti with Creme Fraiche and Caviar from Jane's Adventures in Dinner.
Carrot Salad from My Catholic Kitchen.
BrunchWeek Desserts:
Nutty Banana Bread from Take A Bite Out Of Boca.
Gluten-Free Pear and Walnut Crumble from It's Yummi.
I enjoy writing about and participating in the food, wine and culinary scene in Central FL in my off hours. I started Orlando Uncorked, a local non profit wine education group, to promote the approachability of wine and donated our event proceeds to local area charities. The popular wine tasting events grew into structured wine classes and finally, food and wine writing for Orlando Home & Leisure Magazine and The Seminole Chronicle. Thanks for stopping by and if you'd like to join in on my fun, follow me on Twitter, Instagram, Untappd, Drync & Vivino @WineChix . Cheers!
16 Comments