April 17, 2014 | Posted in:Around Town, Dining out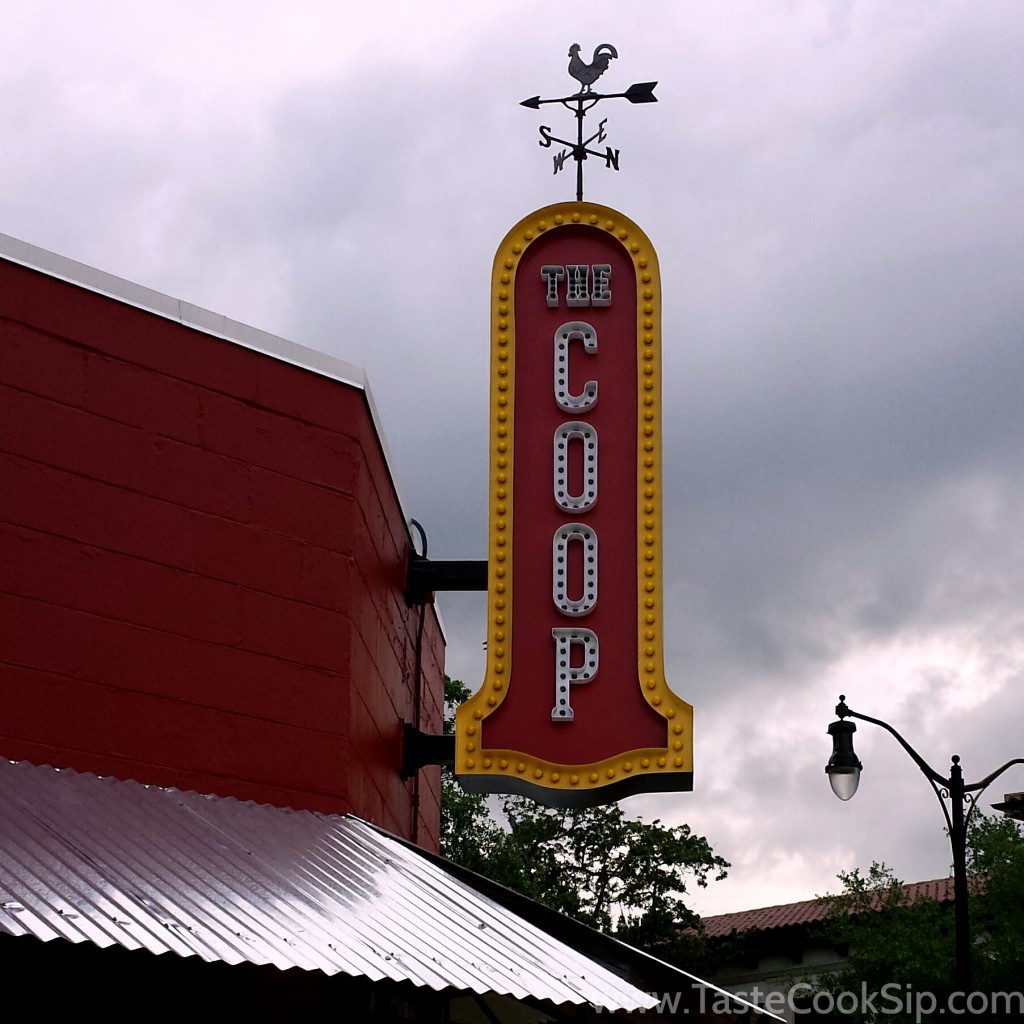 The Coop: A Southern Affair is the newest fast-casual concept from John Rivers of 4 Rivers Smokehouse. The much anticipated restaurant opened today in Winter Park as planned for lunch service.
Upon entering the bright and open main dining room, customers place their orders at the front counter and receive drinks, sides and salad items along with a number. The friendly servers will deliver all of the cooked to order items table-side when ready. The Coop represents southern cooking and charm at it finest. With entrees priced $14.99 and under, including sides, The Coop also offers a great dining value.
I had the pleasure of sampling the menu in the weeks prior to opening and I'm happy to report that each item I tasted was delicious. Some menu items are downright, sinfully delicious.
Fried green tomatoes, Pimento cheese or deviled eggs make a great starter and will still leave room for your main and dessert if you share.
Also under the Nibbles section of the menu, The Coop's Buffalo wings.  The Buffalo sauce is a southern spin on the classic offering a tangy, sweet heat on the meaty wings. Enjoy with either house-made Blue Cheese or Ranch dressing.
After the starters, choose from southern classics of Chicken N' Dumplings, Smothered Pork Chops, Fried Catfish, Low Country Shrimp & Grits or get ready to tackle some delicious fried chicken. The chicken dinners are offered by the piece or you can order for a crowd in the larger family meal or buckets.
The fried chicken is juicy and delicious, the savory coating is crunchy and well seasoned on my 2 initial visits. I hope that The Coop plans on selling this perfectly seasoned flour for our use at home. Boneless fried chicken breasts are tender and flavorful; the star of the Chicken N' Biscuits and Chicken N' Waffles.
I chatted with guests at the next table, who fully enjoyed their shrimp and grits and the substantial chicken and waffles. The Maple Bourbon Glaze will have you licking your fingers, and your plate, clean! So will the pictures and review posted by Veronica at Crave Central on HypeOrlando.com, check it out here.
I enjoyed the The New Orleans Po Boy with Oysters, a hearty sandwich filled with plump, fried oysters. The Creole mustard sauce is the perfect finish to this sandwich. The New Orleans Po Boy is a available with Shrimp, Catfish or Fried Green Tomato.
My guest ordered the Grilled Meatloaf Melt sandwich, a thick slab of Mom's Meatloaf topped with thick cut bacon, melted cheese, BBQ sauce and served on Texas Toast. The meatloaf was juicy and well seasoned, we'll be back for the full dinner portion of Mom's Meatloaf very soon.
The sides are plentiful and a nice portion to share if you want to try more than one. On the menu you'll note that "Plenty" is 2 sides and "Generous" is 3 sides and a cornbread. Macaroni and cheese is made with 3 cheeses and you can taste the cheesy goodness in each bite. The buttery crumb topping is a nice accent and I would be happy to enjoy this delicious side for an entree. The Skillet Cornbread is buttery, with a delicate crumb and a hint of sweetness- so good. Fried okra is cut into bite sized pieces and crisp-cooked, not one mushy bite in my serving. Collards are nicely cooked and seasoned, light on the vinegar. The creamed corn is a stand out; the creamy side is filled with plump, sweet corn and not pulverized kernels. Stewed Okra & Tomato packs a savory zing. The rest of the Fixins selections include Smashed Potatoes, French fries, Squash Casserole, Hoppin' John, Anson Mills Creamy Grits and more. So much more!
Try to save room for dessert, as there are many choices in the Sweetie Pie case. Moon pies, banana pudding, hand pies and mini desserts are all portable and make a nice treat at home if you are too stuffed from dining in. Cinnamon roll bread pudding is a revelation. Read more about the desserts and get John Rivers Banana Pudding recipe over at TasteCookSip on HypeOrlando.com
Be sure to request your Coop Troupe card at check out, a free rewards card which entitles you to various goodies as you dine and a surprise on your birthday. Like 4 Rivers, The Coop offers takeout and catering. If you drive by and the grand opening lines are too long, consider getting takeout! Our service inside was very friendly and we saw some familiar faces (staff from 4R Winter Park) who were happy to share some of their personal favorites.
It will take several more visits to figure out our menu favorites, so we relate to guests checking out The Coop for the first time. Check back here for updates, as we continue to taste through the expansive Coop menu.
Disclosure: I was a guest in connection with media preview tastings. No other form of compensation was received and the opinions in this post are my own. Return visits from grand opening on, were on me. Cheers!
[contact-form][contact-field label='Name' type='name' required='1'/][contact-field label='Email' type='email' required='1'/][contact-field label='Website' type='url'/][contact-field label='Comment' type='textarea' required='1'/][/contact-form]
I enjoy writing about and participating in the food, wine and culinary scene in Central FL in my off hours. I started Orlando Uncorked, a local non profit wine education group, to promote the approachability of wine and donated our event proceeds to local area charities. The popular wine tasting events grew into structured wine classes and finally, food and wine writing for Orlando Home & Leisure Magazine and The Seminole Chronicle. Thanks for stopping by and if you'd like to join in on my fun, follow me on Twitter, Instagram, Untappd, Drync & Vivino @WineChix . Cheers!
4 Comments
Crave Central | John Rivers unleashes his southern cowboy charm at the newest restaurant in Winter Park: The Coop - […] Courtney Smith, who runs the blog Lez Talk with me, joined me and we were accompanied by Lisa Wilk,…
Taste Cook Sip | The Coop Grand Opening Recap and Bananna Dream Pudding Cups Recipe - […] can read about my tasting notes here and please check out Crave Central where Veronica has great photos and…