February 26, 2014 | Posted in:Pics, Special Events, Wine Tasting
The Downtown Wine and Food Fest was bustling this past Saturday and Sunday. The few showers that threatened on Saturday quickly passed and didn't have a chance to dampen spirits of enthusiastic attendees. I headed into the heart of Downtown Orlando on Sunday, where the weather was welcoming, warm & sunny. The view of Lake Eola was pretty spectacular, too.
This year the popular festival added several new ticket packages available both in pre sale and onsite. The VIP and Ultimate Feast tickets offered premium experiences and separate seating areas.  For those wanting to sample several wines before committing to full pour, the Wine Tasters Club pass was a great option for just $15.00. The sampling pass entitled the bearer to five, 2 oz flight pours at any of the wine stations and a nice surprise- $5 off any Corkcicle product at the Corkcicle booth.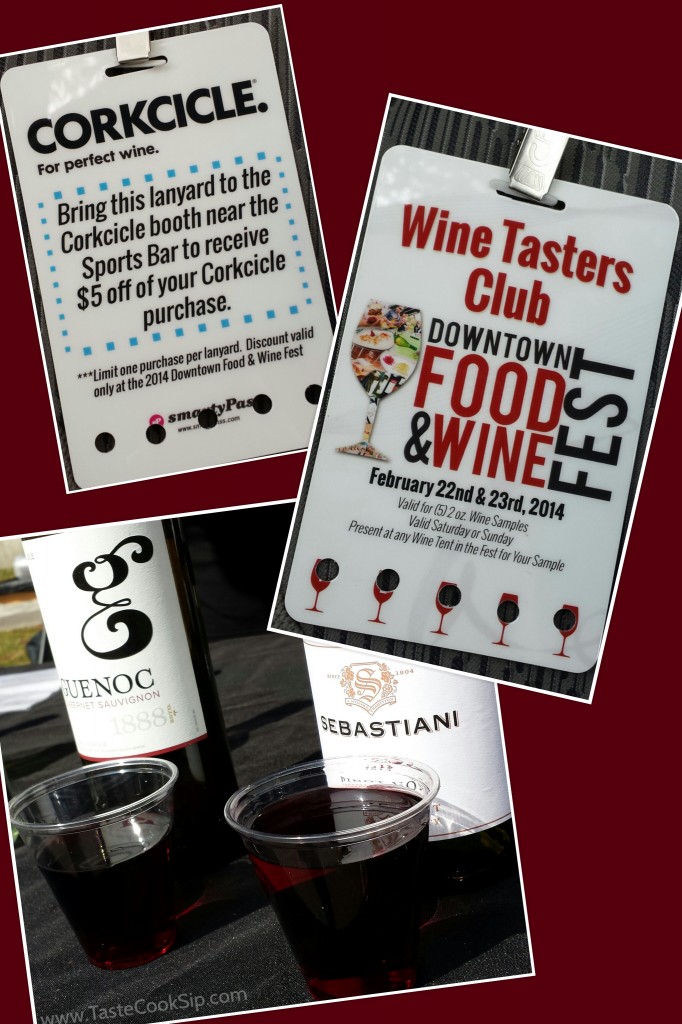 Several of my favorite food stops coincided with the Downtown Food and Wine Fest Golden Fork Award winners, which were announced later Sunday afternoon. The 2014 winners are:
Foodie Award (Based on one food item for taste, unique flavor and culinary excellence) The Smiling Bison for the Pretzel Bread Pudding
The new and independent eatery made a splash with the Pretzel Bread Pudding (2 tickets, $4) – described as having peanut butter, strawberries and whipped cream. I saw several passing by and the substantial portion looked like the ultimate, elevated PB & J experience.
Best Overall Menu (Based on overall menu creativity, depth of offerings, and quality) Kasa Tapas and Raw Bar
Kasa's Shrimp A La Plancha was delicious, three perfectly grilled jumbo shrimp in a savory coconut sauce that was balanced with richness, acidity and a nice chipotle smokiness.
Best of Show (Based on fun factor, overall energy, and crowd vibe) Siro Urban Italian Kitchen at Orlando World Center Marriott
Throughout the Downtown Food & Wine Fest, there was a great selection of food items at every price point and for every diet. Those looking for low carb, meat free, vegetarian or gluten free certainly had plenty of options to choose from this year. It was nice to see so many filling food options available for 1 or 2 tickets, equating to $2.00 or $4.00 per portion.
I also loved sampling the Shaved Snow (shaved flavored ice) from Sushi House Orlando (2 tickets, $4), check out this clip of fresh snow being made. This is their Honeydew melon snow, which was very light and refreshing on a warm day.

Festival general admission was discounted to $15.00 if you purchased tickets in advance, through the Downtown Food and Wine Fest website. Festival tickets were available at the gate for the price of $20.00. Food and drink tickets were available for $2 each; all food and drink vendors only accepted tickets as payment. The food and drink tickets could be purchased in advance, at the gate or at the mid promenade ticket booth with cash or credit card. Along with wine stations, there were several beer stations and cocktail stations throughout the restaurant booths.
Bands rotated throughout the main stage which was surrounded with plenty of space to spread out a blanket and the few shady areas under the trees were prime real estate. Attendees were welcome to bring a lawn chair and settle in for the afternoon, the Downtown Food and Wine Fest provided a great weekend of entertainment for all.
[contact-form][contact-field label='Name' type='name' required='1'/][contact-field label='Email' type='email' required='1'/][contact-field label='Website' type='url'/][contact-field label='Comment' type='textarea' required='1'/][/contact-form]
I enjoy writing about and participating in the food, wine and culinary scene in Central FL in my off hours. I started Orlando Uncorked, a local non profit wine education group, to promote the approachability of wine and donated our event proceeds to local area charities. The popular wine tasting events grew into structured wine classes and finally, food and wine writing for Orlando Home & Leisure Magazine and The Seminole Chronicle. Thanks for stopping by and if you'd like to join in on my fun, follow me on Twitter, Instagram, Untappd, Drync & Vivino @WineChix . Cheers!
1 Comment
The 2015 Downtown Food & Wine Fest - Taste Cook Sip - […] the music acts here. For a complete Downtown Food & Wine Fest "How To", check out our recap from last…