March 25, 2015 | Posted in:Recipes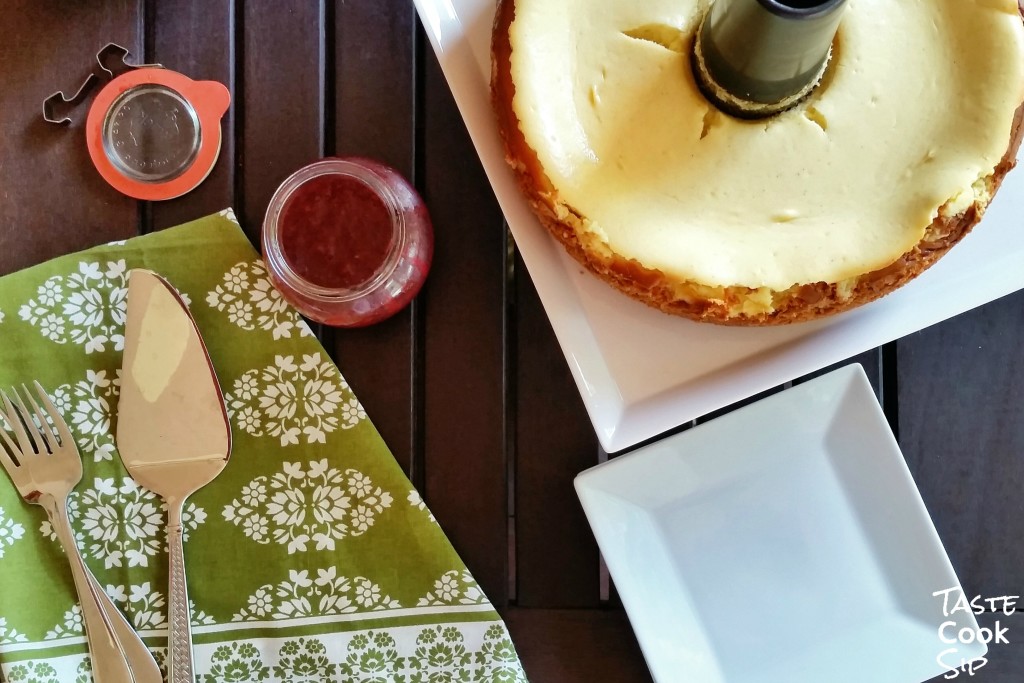 Every family has that special dish that is the centerpiece to a family dinner or holiday celebration. For my husband's family, it has always been Mom's (New York) Cheesecake. I love cheesecake and had baked plenty in my time…but not the way my mother-in-law, from New York, made cheesecake. This crust is not overly sweet, there is no water bath used while baking, the pan isn't typical and Mary would top it with sour cream. I wasn't from New York, so what did I know of sour cream on a cheesecake? My first bite had me converted, the silky texture of the cream cheese filling a pleasing contrast to the crisp, buttery crust.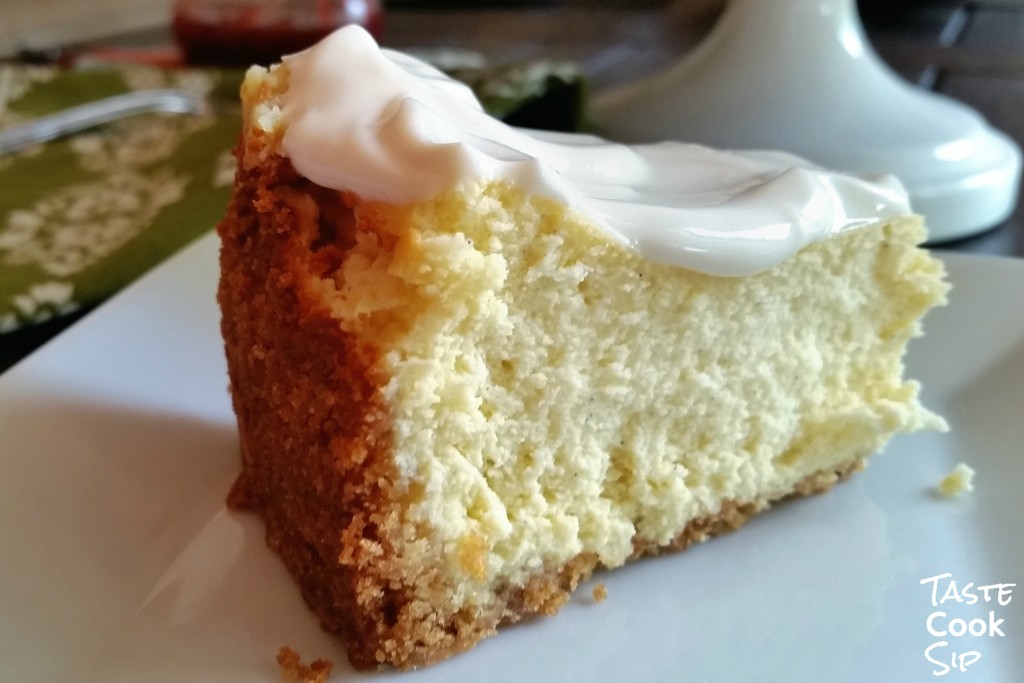 I was given Mom's recipe to bake and spread the joy of this delectable dessert. And then, Nabisco stopped making Zwieback Toasts, which completely messed up our lives. These crisp, not sweet, baby teething toasts were the key ingredient to Mom's signature crust. You can try to substitute other teething rusks, make Zwieback from scratch or use graham cracker crumbs for a sweeter crust. After years of experimenting, I have finally hit on a suitable Zwieback substitution for our family that is not too sweet, not too plain, it's just right.
My husband grew up topping a slice with canned cherry pie filling, which is perfection. I was recently on a strawberry bender, so I topped this latest cheesecake with homemade strawberry compote. Upon his first bite, my husband closed his eyes and sighed, declaring "You may have bested Mom this time." I'm honored to declare a tie.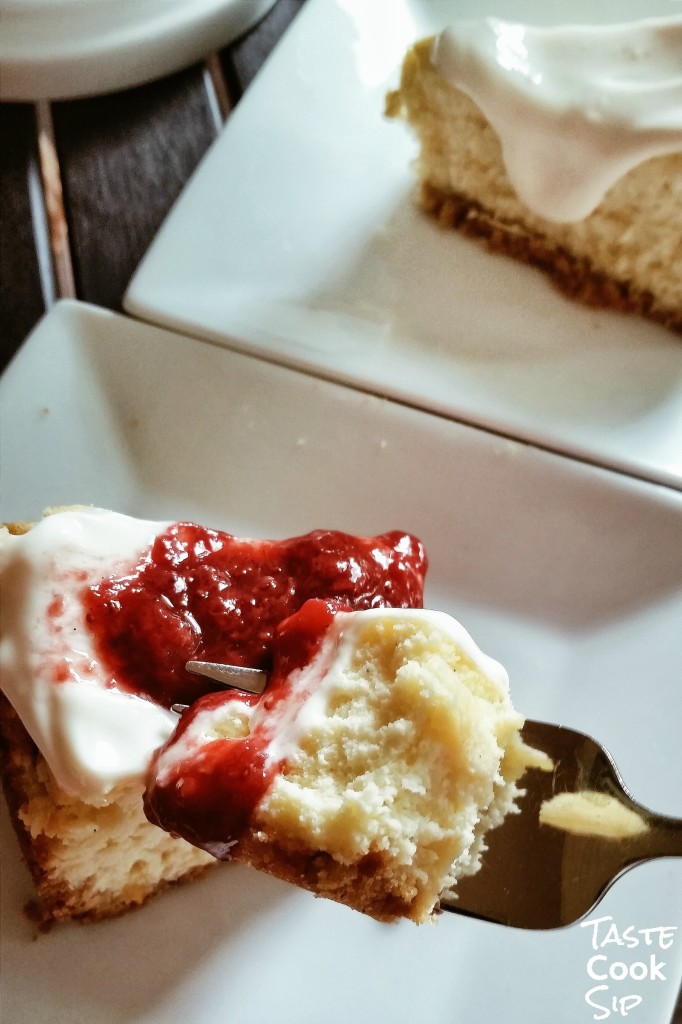 Mom's (New York) Cheesecake
Crust
1 box Stella D'oro Almond Toasts, coarsely crushed with a rolling pin
1/4 Tsp salt
¾  stick unsalted butter, melted
Directions
In a bowl, mix ingredients until just blended and gently press in springform or angel food cake pan on bottom and 2 inches up the sides.
Filling
3 8-oz bars cream cheese, softened
1 cup sugar
4 eggs
1 tsp vanilla (or vanilla bean paste)
Directions
Beat softened cream cheese, sugar and vanilla until creamy. Add eggs individually, beating mixture for 1-2 minutes, before adding the next egg. (This will result in an extra creamy cheesecake.)  Spread mixture evenly on top of crust, tap pan on counter to level.
Bake at 350º for 40-45 minutes, or until cake just starts to brown. Cool completely in pan, then chill in the refrigerator 2-3 hours.
When you are ready to serve: Spread a 1/4″ layer of plain or vanilla nonfat Greek yogurt (or sour cream) over top of cheesecake, then top with topping of your choice.
Serve very cold.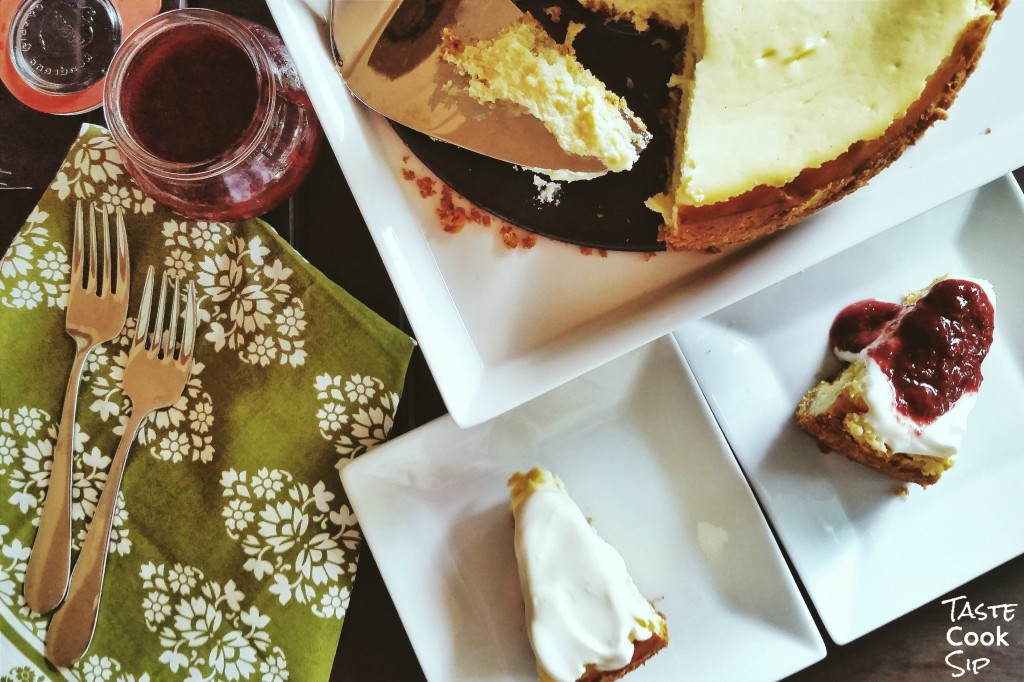 Food is often the center of memorable family celebrations. Today, please join us in helping Camilla of Culinary Adventures with Camilla celebrate her 15th wedding anniversary with waaaayy more than #fifteencheesecakes.

Cheesecake lover's rejoice, here's what everyone brought to the cheesecake table, listed in alphabetical order. I cannot wait to try some of these recipes. Enjoy!
17 Comments