March 14, 2015 | Posted in:Recipes
Welcome to Pi(e) Day hosted by Terri from Love and Confections! Pi Day is celebrated every March 14 by math fans around the world – including bakers and pastry chefs. Pi is an non-repeating, infinite number represented by the Greek letter π, and used to represent the ratio of the circumference of a circle to its diameter. Today, March 14, 2015, is an extra special Pi Day, because at 9:26:53 AM it creates the "Pi Moment of the Century". The first ten digits of Pi are 3.141592653 (3/14/15, 9:26 AM and 53 seconds). This exact date and time happens once every hundred years – a once in a lifetime moment for most of us. How cool is that? Today, 20 Food Bloggers have gathered and want to celebrate the fun of Pi by creating their own sweet and savory pies to share with you.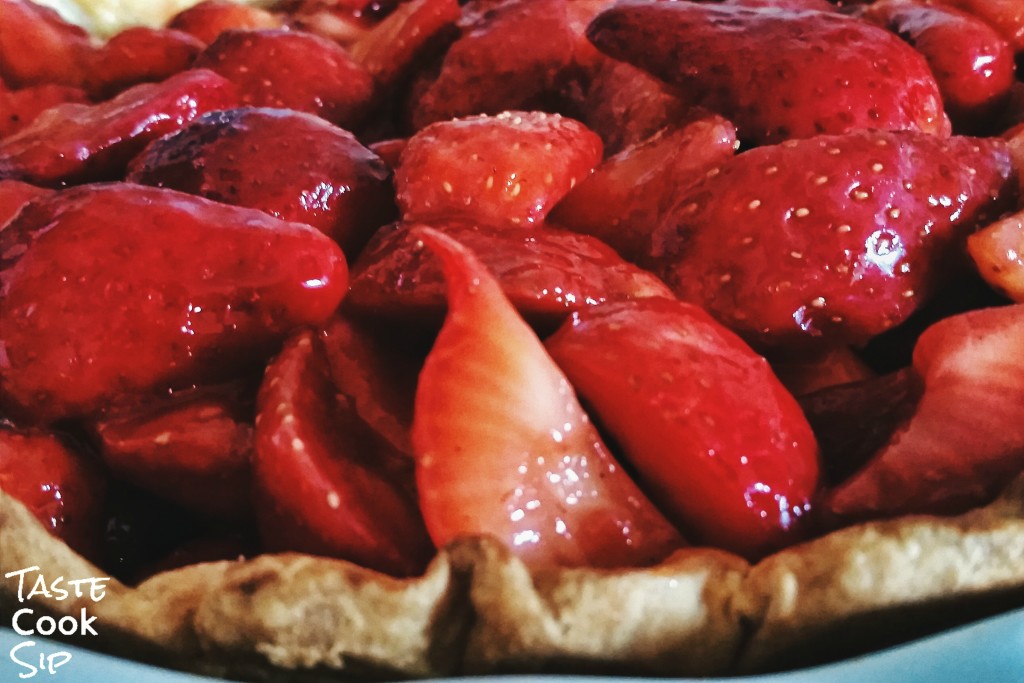 I recently had the pleasure of visiting the Florida Strawberry Growers Association, where I was able to pick ripe strawberries off the plants and enjoy their sun-sweetened perfection. For Pi Day, I wanted to capture and accentuate the delicious perfection of fresh strawberries. Spring or summer, fresh strawberries are abundant and you will want this delicious pie at your next family gathering or BBQ.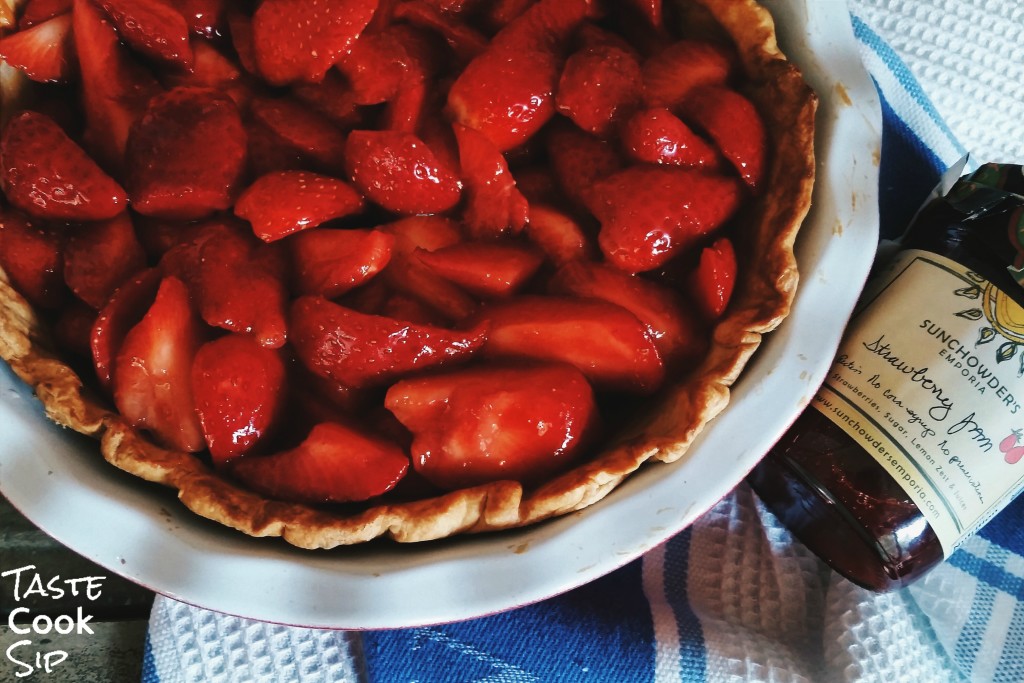 Fresh Strawberry Pie

Ingredients
Chilled pie dough for one, single crust 8-inch or 9-inch pie*
4 cups ripe, fresh strawberries, hulled and quartered (About 2 quarts of whole strawberries)
2 Tablespoons Easy Vanilla Syrup
1/2 cup favorite jam (I used Sunchowder's Emporia [Florida] Strawberry Jam, purchase online here or in person here.)
1/4 sugar, if needed, based on the ripeness of strawberries
1 teaspoon vanilla bean paste
1 egg yolk
1 tablespoon heavy whipping cream
Additional whipped cream for topping
* Or 1 box shortbread cookies, such as Girl Scout Shortbread cookies (Trefoils)
Directions
Use favorite pie crust recipe or store bought crust. Press dough into pie dish and if needed, trim dough to fit the pie dish. Crimp pie crust edges and pierce the bottom and sides of the crust multiple times with a fork to ensure even baking.
Line the pie crust with aluminum foil, pressing the aluminum foil against the crust. Fill the foil lined crust with pie weights or dried beans. Refrigerate 30 minutes (or freeze for 10-15 minutes) to fully chill dough prior to baking. Preheat oven to 425 degrees.
When dough is properly chilled, reduce oven temperature to 390 degrees, place the pie crust in the middle rack of the oven. Bake pie crust 25 to 30 minutes or until the crust is golden. Carefully remove foil with pie weights or dried beans from baked pie crust.
Whisk egg yolk and cream in a small bowl and brush bottom and sides of crust with egg wash. Bake until egg wash is dry and shiny, about 5 minutes. Cool crust completely on pie rack prior to filling.

*If using optional cookie crust
Place shortbread cookies into zip top bag and crush, or pulse in food processor until cookies are fine crumbs. Spoon cookie crumbs into individual ramekins or jars. Tamp down crumbs to create even crust thickness.
Wash, hull and quarter 2 quarts of ripe strawberries, or until you have about 4 cups cut strawberries. Place in medium mixing bowl, Add 2 tablespoons Easy Vanilla Syrup to bowl, mix until incorporated and set aside to let strawberries macerate.
Add 1/2 cup jam to a small saucepan and warm thoroughly over medium low heat. Add vanilla bean paste. Add sugar, if needed, and stir until sugar is completely dissolved into mixture. Remove from heat and cool.
Add cooled jam glaze to bowl with 4 cups of cut strawberries. Gently mix until strawberries are well coated with glaze. Pour strawberry filling into cooled pie crust. (Or individual ramekins/jars)
Cover finished pie with tin foil and refrigerate for 3 hours (or more) to chill completely and set filling. Serve with whipped cream and enjoy!
Enjoy a slice from the Pi(e) Day Bloggers:
Psssssst! Disclaimer: I did not receive any samples or compensation from Sunchowder's Emporia, I just like this tasty jam made with fresh, quality ingredients. Use whatever jam and flavor you prefer! This recipe was developed and tested by Lisa at TasteCookSip.com.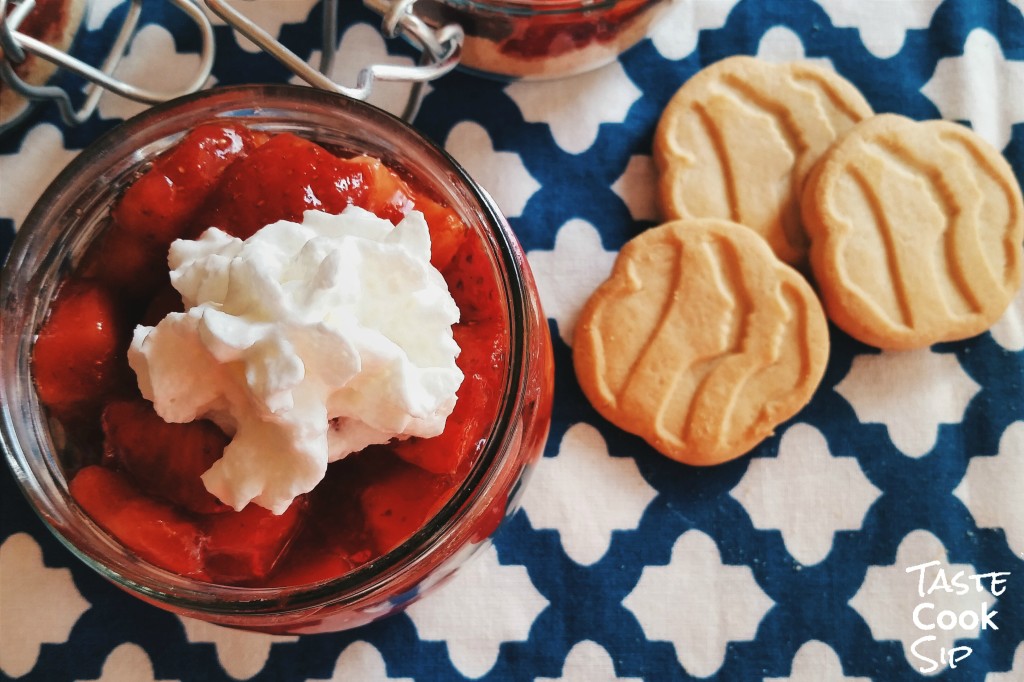 I enjoy writing about and participating in the food, wine and culinary scene in Central FL in my off hours. I started Orlando Uncorked, a local non profit wine education group, to promote the approachability of wine and donated our event proceeds to local area charities. The popular wine tasting events grew into structured wine classes and finally, food and wine writing for Orlando Home & Leisure Magazine and The Seminole Chronicle. Thanks for stopping by and if you'd like to join in on my fun, follow me on Twitter, Instagram, Untappd, Drync & Vivino @WineChix . Cheers!
31 Comments